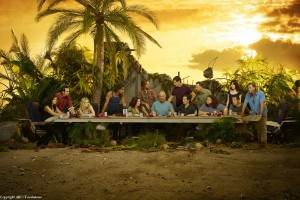 Mark posted earlier this week about the possibility of Lost's Season 6 premiere being bumped from February 2 because of President Obama's State of the Union address. Well, Dharma's tentacles clearly stretch to 1600 Pennsylvania Avenue, because according to Damon Lindelof and Carlton Cuse's Twitter feeds, the premiere will air as scheduled on Tuesday, February 2nd.
From Damon:
OBAMA BACKED DOWN!!!! Groundhog Day is OURS!!!!!!! (God Bless America)

Okay. So Obama didn't technically "back down." He leveraged Carlton and I to do something on the show. Two words. MORE FROGURT.
From Carlton:
No State of the Union conflict with LOST! We go Feb. 2!
We knew that the President is a big Star Trek fan, but is it possible he has his own Dharma jumpsuit as well?
For more coverage, please see DocArzt.
UPDATE: Here's a (semi) official statement from White House Press Secretary Robert Gibbs:
"I will say this on behalf of ABC Radio: I don't foresee a scenario in which millions of people that hope to finally get some conclusion in 'Lost' are pre-empted by the president,'he told Ann Compton, the White House correspondent for ABC News Radio.

"You can quote a senior administration official," he joked….
Quoted from Politico.com