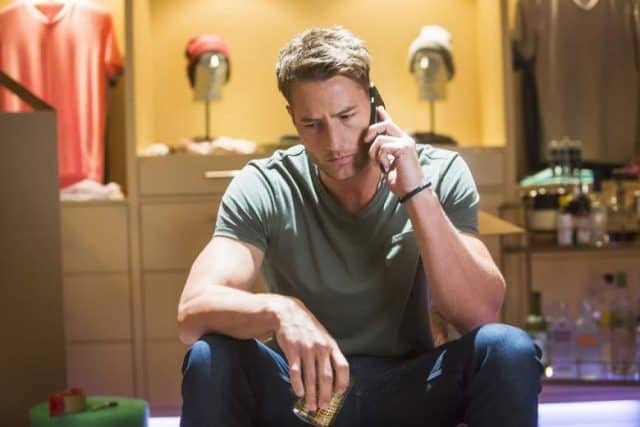 If you haven't tuned into the new NBC drama This is Us, you are missing out. The series, which scored 11 million viewers in its fall finale and continues to dominate its time-slot on Tuesday nights, has critics and fans laughing and crying.  The success of the show is due in part to the excellent chemistry between the cast which includes Justin Hartley, Mandy Moore, Milo Ventimiglia. Justin Hartely is no stranger to the world of television. The actor recently appeared on Mistresses and Revenge. Here are six facts you may not know about the This is Us actor.
1. He was almost Two Superheroes
Justin Hartley appeared on the WB series Smallville as The Green Arrow long before Stephen Amell played the character. However in 2006, the This is Us actor was selected to star as Aquaman on The CW. Though there was a lot of buzz around the series, the show was never picked up and only the pilot episode was made. Here is a clip of the intro. You can watch the entire pilot episode on YouTube.
2. He Fell for His Co-Star
Justin Hartley spent several years on the soap opera Passions. Like his character Kevin on This is Us, Hartley fell head over heels for his co-star. Hartley began dating Lindsay Korman, known for playing Theresa Lopex-Fitzgerald, in 2003 and the two were wed in 2004. After 8 years of marriage, the two filed for divorce. The couple has one daughter. Hartley is now engaged to Days of Our Lives' star Chrishell Stause.
3. He Works Behind the Scenes, too
Justin Hartley is known for his acting skills, but the This is Us star has worked behind the camera as well. During his days on Smallville, the actor was able write an episode in 2010 and direct another in 2011. He is currently producing and starring in a dramatic comedy called Another Time that is due out later this year.
4. He is an Award Winner
This is Us has been nominated for many accolades during its short time on the air. Unfortunately, Justin Hartley has not yet been nominated for his work on the dramatic series. During his days starring on soap operas, Hartley did receive some recognition for his work. In 2005, he was nominated for two Soap Opera Digest Awards and in 2016 was nominated for a daytime Emmy for his work on The Young and the Restless. In 2015, Hartley was the winner of a Gold Derby TV Award.
5. He is a fan of Friends
Though Justin Hartley is hard at work starring on This is Us, he still finds time to watch television. One of his favorite shows is Friends, which ran on NBC from 1994-2004. In an interview Hartley admitted, "I've seen every one probably 37,000 times but I can watch Friends all night. You just forget how amazing it was!  Those guys were just so good together. Just a great ensemble."
6. He has been Involved in Several Web Series
Just Hartley is no stranger to television, but the This is Us actor has starred in several series made strictly for the web. The first came out in 2008 and was called Brawn and Glamour. Hartley created the series with then wife Lindsay Korman. That same year, Hartley starred in Gemini Division with Rosario Dawson. Check out the trailers below:
Who is your favorite Justin Hartley moment on This is Us? Let us know in the comments section below.
Photo by: NBC