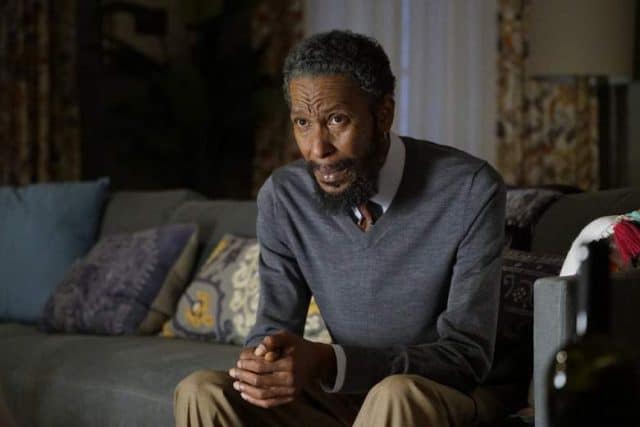 This is Us comes back to NBC tonight with an episode that all of us know is going to hurt.   While it might not technically hurt until the episode after tonight's, we know it's going to hurt anyway because all the episodes hurt! The main plot for episode 16 of the first season sees Randall and William taking a road trip to Memphis, where Randall learns about his biological father's past.  From the previews we can see that they're going to have a great time, but we also know that given the trip, Williams time is running out.
Hopefully we'll get to see more of William in flash backs but if we don't, I wanted to take some time to look into the actor playing William, Ron Cephas Jones.  I don't think many people really knew of Jones before his role on This is Us, so let's have a look at five things you might not have known about him.
His real look
From what I can recall about the show we don't know William's age.  But because of his cancer it's evident that William is a run down old man.  But in reality Ron Cephas Jones is 60 years old and looks a lot younger than that as this recent picture would suggest.  Ron's not a big time film or TV actor and only has 33 credits to his name.    He was in the movies "Half Nelson" and "He Got Game" but didn't have large parts in those movies.
He's a New York Theater Vet
While he doesn't have a huge television or film pedigree, Jones is a veteran of the New York theater scene. His biggest role to date was starring in Richard III for The Public Theater in 2012. As Playbill reported at the time, the production also toured homeless shelters, at-risk-youth centers and other community centers throughout New York City.
His Connections to Hamilton
Here's a direct quote from Jones:Â  So I was raising my daughter and I never wanted to leave her to come out here, and she was able to do that with me, and I kept getting these great theater jobs. To be able to travel with Sam Mendes and do The Bridge Project, and do Shakespeare all around the world and play the Old Vic and play the Old Globe and play Shakespeare at The Public. And to play Richard III and Prospero. And coming out to L.A. and pursuing television, there are so many actors that I know have no idea how to do O'Neill or Tennessee Williams or August Wilson or Shakespeare. I just felt honored and great and I was still able to make a living, and now I'm able to make a little more — and still have the quality. Which always doesn't happen, either. You can have the success, but not the quality.
He had no clue this would be a big year for him
Ron resigned himself that his future would be in the theater. But then he started doing a lot more television (Mr. Robot, Luke Cage), but that elusive role that can invariably put you over the top hadn't happened for him yet.  Until he landed This is Us.
New Jersey Native
Jones was born on January 8, 1957, in Paterson, New Jersey.
Save