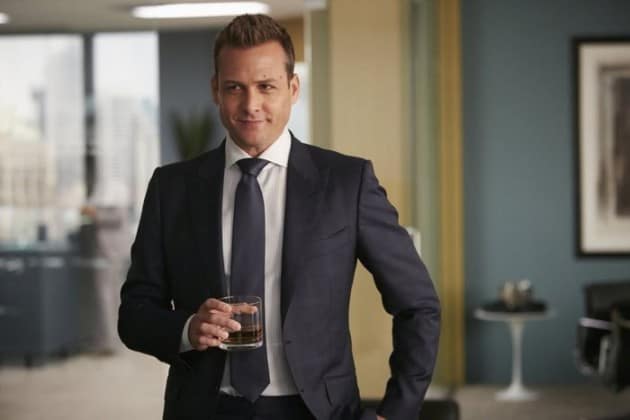 USA Network has announced when it will be putting back on its Suits. The cable network has revealed that its beloved legal drama will return on Wednesday, Jan. 28, at 10 p.m. for the second half of its fourth season. Meanwhile, USA's comedy series Sirens will begin its second season the night before Suits' return, with its Season 2 premiere slated to air on Tuesday, Jan. 27, at 10 p.m.
Suits, which premiered back in 2011 on USA, stars Gabriel Macht as Harvey, Patrick J. Adams as Mike, Rick Hoffman as Louis, Meghan Markle as Rachel, Sarah Raffery as Donna, and Gina Torres (of Firefly fame) as Jessica. The series will have plenty of guest stars for the upcoming back half of its fourth season as the show's lineup includes newcomers Troian Bellisario (Pretty Little Liars), Billy Miller (General Hospital, The Young and the Restless) and Tricia Helfer (Battlestar Galactica). These first time guest stars will also be joined by returning Suits characters played by Stephen Macht, Wendell Pierce, Neal McDonough, Eric Roberts and Zeljko Ivanek.
For those unfamiliar with Sirens, the show is a half-hour comedy series from executive producer Denis Leary that stars Michael Mosley (Last Resort, Pan Am), Kevin Daniels (Modern Family) and Kevin Bigle (Brooklyn Nine-Nine) as three Chicago EMTs that do their best to deal with both the professional and personal drama in their lives. It premiered earlier this year, back in March, on USA Network. USA's newest comedy Benched, starring Eliza Coupe (Happy Endings) as a high-ranking corporate lawyer turned-public defender, premiered just last month at the end of October.
Photo via USA Network