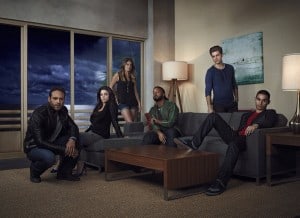 White Collar creator Jeff Eastin is bringing a new series to USA this summer.
Inspired by true events, Graceland's drama surrounds a secretive group of agents from the Federal Bureau of Investigation (FBI), U.S. Customs and the Drug Enforcement Agency (DEA) all housed and operating under one roof in Southern California – 'Graceland.'
We arrive at the beach house with new FBI graduate Mike Warren (Aaron Tveit), a clean-cut, booksmart agent itching to learn from agent Paul Briggs (Daniel Sunjata), whom is apparently a legend back at Quantico, though he has given up such formality for the beach life after a nervous breakdown.  Unfortunately for Mike, Briggs appears to be less interested in actually teaching him than he is in getting the rookie to do his chores.  Also residing at Graceland are FBI agent Catherine "Charlie" DeMarco (Vanessa Ferlito), U.S. Customs agent Dale Jakes (Brandon Jay McLaren), DEA agent Paige Arkin (Serinda Swan), and my personal favorite thus-far FBI agent Joe "Johnny" Tuturro (Manny Montana).  Though all work for different agencies, with different purposes and priorities, the group seems to rather interesting 'family' at Graceland.
Though, of course, there are secrets to be had within the house…
After watching the pilot episode of Graceland it is clear that the show is gritter and slightly more morally ambiguous than USA Network's usual programming, particularly more than Eastin's own White Collar where there is an underlying hope for goodness in each episode.  The residents of Graceland, while government agents, no doubt have their own dark pasts, and we probably shouldn't like them as much as we probably will.
For this viewer, the first episode of Graceland is great.  While slightly cliché – the Graceland vets initiating the rookie – the core plot of the series is well established, with clear introductions to the characters, and there is potential for the meatier story to be told in the following episodes.
Be sure to check out Graceland when it premieres Thursday, June 6th at 10/9c on USA Network.