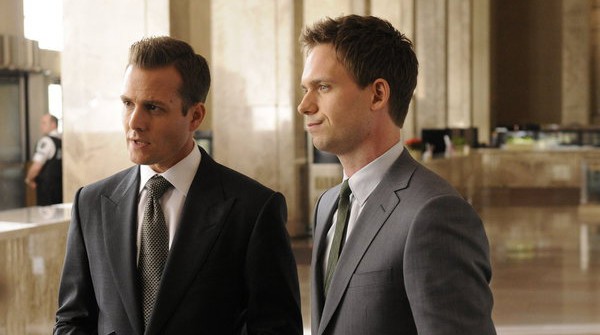 Good news for any and all Suits fans out there. USA has just announced that the very popular legal drama has been renewed for a fifth season, which will consist of 16 episodes.
"Suits continues to fire on all cylinders, delivering provocative storytelling and complex characters that viewers can't get enough of," said USA Network president Chris McCumber in a statement. "With some of the best writing on television, and a brilliant ensemble cast, we anticipate a spectacular fifth season for a series that has become a marquee property for USA."
Suits stars Gabriel Macht, Patrick J. Adams, Meghan Markle, Sarah Rafferty, and Gina Torres (Zoe and Firefly FTW!) and focuses on the employees of a fictitious law firm in New York City.
Although a lead actor on Suits, Adams actually found time to guest star on one of his favorite television shows, the cult favorite BBC America clone series Orphan Black, where he played a sort of/kind of love interest for the series most lethal (and entertaining) clone, Helena. According to Adams, he found his way onto Orphan Black by proclaiming his love for the show on Twitter, even campaigning to get a guest spot, a role that he called a dream come true.
Suits is approaching the midway point of its current fourth season. Up to this point in the summer, the current fourth season has been averaging about 4 million viewers (including DVR playback) and has feature some major dramatic moments, as Harvey (Macht) has found himself battling against his associate Mike (Adams), who left the firm to go to Wall Street as an investment banker.
The midseason finale of Suits is set to air on Wednesday, August 20, at 9 pm on USA.
Photo via USA Network