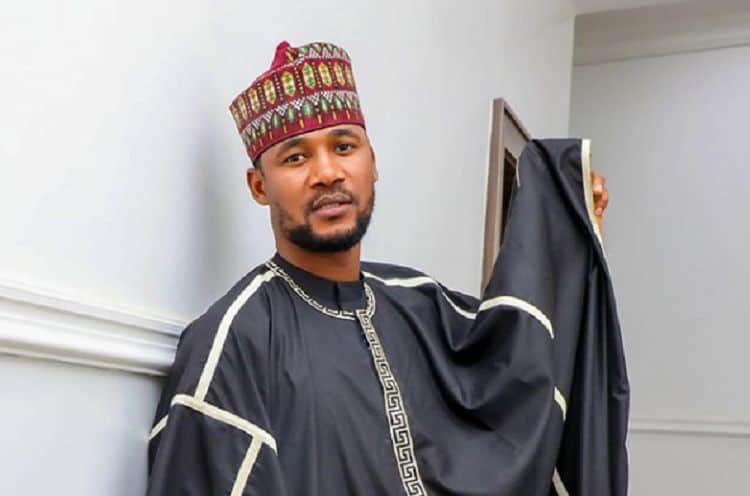 Two people that have revealed how hard it is to have a long-distance relationship are Usman Umar and Lisa Hamme. They tried to have a blissful marriage after being featured on "90 Day Fiancé," but in the end, they have decided to go their separate ways. From being called a scammer to being embarrassed in front of his brothers, Usman Umar has seen it all. After both of them got tired of each other, Lisa used social media to confirm the split. Let's tell you how they met and a few details that could have resulted in the break-up.
1. He met Lisa online
Lisa and Usman met online after an introduction by a mutual friend. She was not comfortable starting a relationship with a Nigerian after the stories she had heard about them being scam artists. Lisa's gut warned her that Usman would harass her to the end, but then she did not want to base her decision on the stigma surrounding Nigerians. She, therefore, gave him the benefit of the doubt, and their romantic story began.
2. He caused Lisa to change her religion for them to get married
People have been known to jump many hurdles to be together, and for Usman Umar, religion was not going to keep him from marrying Lisa. His mother had always wanted Usman to find a Muslim girl from the region and settle down. With Lisa being a Christian, the relationship between her and Usman would not lead to marriage. Therefore Lisa changed to become the "good Hausa Muslim wife."
3. His family was against him marrying Lisa
According to CheatSheet, Usman felt that his mother walking out of his wedding to Lisa indicated that she no longer wanted anything to do with him. Usman's mother explained that she disagreed with Usman's bride choice; hence she left the gathering. To her, Lisa was much older than Usman, which scared her. Besides, the fact that they would live in the United States where blacks are racially discriminated against worried Usman's mother. However, Usman expected her reaction because he already knew that his friends and family did not like Lisa.
4. Lisa accused him of being a scammer
They say love transcends distance, and the relationship that was blossoming between Usman and Lisa was not going to be halted by the miles that separated them. After falling in love and getting married, Lisa still accused the Nigerian of being a scammer once the relationship hit a rough patch. According to The Blast, Lisa said that Usman was part of a romance scam. He had used her to gain popularity through the television show hence facilitate more music sales. However, Usman defended himself, saying if he wanted to scam anyone, he would have gone for a rich woman.
5. He wanted to be polygamous
Muslim men can marry up to four wives, and Usman was ready to exercise this right. However, while it may be a norm in Nigeria, it is unacceptable in the United States. Lisa, however, insisted that even if she did not mind him marrying four wives, Usman had to ensure he could provide for them all. She mentioned Usman having to give the four wives financial stability, paying their bills, insurance, rent, and buying them vehicles. From her statement, it was evident that she did not plan on living under the same roof with her future co-wives.
6. Why he allegedly married Lisa
Lisa said that Usman had lied to her and her daughter that he would love them until he died but proved that he was only using them. Usman, on the other hand, claimed that despite the couple professing their love for each other, he knew from the beginning, he did not have any feelings for her. However, he stayed by her side because she had threatened to commit suicide if he ever left her. For the Nigerian tolerating the headaches that Lisa caused him was a welcome choice instead of living with the guilt of having her kill herself because if they separated. Lisa, however, claimed the suicide attempt rumor was a lie.
7. He planned on getting a child
Usman disclosed that although Lisa could not give him children even if they stayed together, he would still have to get a child. Of course, that is understandable since he is a young man, and having a family of his own is a priority.
8. His wife used racial slurs on him
Usman's mother was right to be worried about how her son would be treated because of his skin color. What she did not know was that the racial slurs would happen in his own home at the hands of his wife. Lisa confessed that she often used the N-word to refer to her husband, but she asked to be forgiven. She told The Grio that she was hurt by the hateful comments her fellow Muslim sisters hurled at her. She defended herself, saying that while there are many people around the world dying because of heinous actions, she was being attacked for only using the N-word.
9. He would not give up his music career for love
Love is beautiful, and many have made sacrifices, but not Usman. His music career comes first, and Lisa, unfortunately, did not understand that. Instead of appreciating his career and fans, she was jealous of the female attention the rapper got. It became such an issue that Usman had to talk to her about getting over her insecurity. He added that if Lisa did not mend her behavior towards the people who build Usman's career, then he would choose his music over love.
10. He had second thoughts about marrying Lisa
Lisa proved that she could not be the submissive wife she was expected to be by Usman and his brothers. Although Usman wanted to keep their problems to themselves, Lisa disclosed them. She told his brothers that Usman was stubborn, resulting in Usman adding they had been having issues since she arrived in Nigeria. Usman's brothers told her she should respect him as the man of the house and not expect too much attention from him during the day. Lisa did not take the advice kindly and stormed out, leaving Usman to wonder if there would be a wedding.