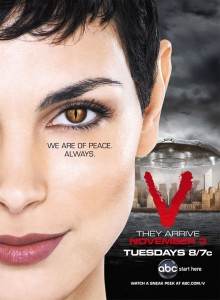 Lots of spoilers were dished upon at Comic-Con this weekend, including some pretty big ones for V. For now, let's take a look at one spoiler that was brought to us through the V panel by staff writer Michael Salerno. The spoiler involves some pretty big stuff, but let's get the big one out of the way: we'll be seeing Anna's mother again.
Scott Rosenbaum, the executive producer of the series, accidentally dished that Anna's mother will be named Diana, which is coincidentally the name of a V big baddie from the original series, who served in a capacity similar to the one that Anna does in the new series. While the two shows obviously aren't set in the same reality, it's interesting to note that there was a promise of old cast members returning for new roles in the series. Could Jane Badler, who portrayed Diana in the original series, be coming back for this series? I'd say yes — though when reading this next spoiler, I'm not really sure why the character needs a human name.
Diana will be appearing on the Vistors' homeworld, Rosenbaum also revealed at the panel. So far, the only V's we've seen not on earth have been that battalion in space, so where the V's hail from should be quite interesting. I'm going to assume that it's at least similar to earth, since they want our planet, but — and this is just a guess — probably with a red sky. Maybe. Just something big and theatrical so that we can know the difference between the two.
But that's all speculation. The only concrete facts are that we will see Anna's mother, her name is Diana, and she'll be on the V's homeworld when we see her.
Suddenly, I'm really looking forward to V's second season, which is slated to start up in November.