Scott Rosenbaum, who took over as Executive Producer of ABC's alien invasion series V partway through the first season, recently spoke to Gray Jones on the TV Writer Podcast about his experience in coming to the show part-way through the first season and his approach to the storytelling through the end of season one and into season two.
"I always believed…at the core of what the show was, on a very personal level, it was a war, a battle between two mothers," Rosenbaum says. "It was Anna on one end, and it was Erica on the other end. Anna's sort of the mother of all Visitors and Erica is the mother of all humans, and was sort of this battle between them, to sort of save their children."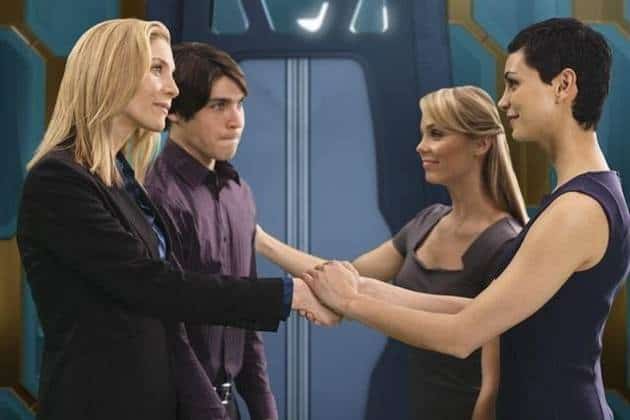 It seems, initially, the network wasn't on board with the two mothers meeting so early into the show's run, but Rosenbaum felt it was "essential" to the story, and ultimately convinced the network it was the right move.
"For those who have watched the show," Rosenbaum continues, "I think that most people probably get, you know, once those two started getting closer to meeting each other, and actually met each other, the storytelling just became much richer and more dynamic."
One of the most anticipated moments of the upcoming season is the appearance of original series star Jane Badler in the recurring role of Anna's mother, Diana. Rosenbaum says as he contemplated the evolving "mother" theme of the show, he was very taken with the idea of what Anna's mother would be like, and wanted to use that as an obstacle for Anna in the upcoming season. As for Badler's casting, Rosenbaum says the plans for Anna's mother were not made public when he first met with Badler and it was by sheer coincidence that she happened to contact him around the time he was working on the character.
"Randomly, I was at the office and I got a phone call," he recalls "that Jane Badler was in L.A. for something and she just wanted to stop by and just say 'Hi,' so I said sure have her come by."
When she arrived, the two chatted and as Badler talked about her experiences on the original series and her family and life back home in Australia, Rosenbaum relates, "I started to like zone out a little bit, cause I was just listening to her talk and started thinking to myself 'Hmmm, you know, what if, you know, maybe she could be Diana.'"
Impressed by what he'd seen and heard, Rosenbaum called to have her read for the part, after she'd already returned home to Australia. She sent a tape of her reading and of all the actresses who auditioned and sent in tapes, he felt she best embodied his vision of the character.
"There was sort of a fortuitous thing that she happened to be in town that day," he says. "I probably would have reached out to her…but it wasn't in my mind to cast her at all, because I initially was not into sort of stunt casting." In the end, it was essentially Badler's personality and charisma, in addition to her talent, that won him over.
In the interview, Rosenbaum goes on to answer other questions, and addresses plans for the inclusion of other actors from the original series, as well as gave some hints of where the season will end. He also provides insights into the planning and some of the more technical aspects of preparing for season two, in addition to details that went into preparing the season two pitch – which he had to prepare and deliver solo.
For these, and other interesting tidbits, the TV Writer Podcast interview with Rosenbaum in its entirety can be seen below. The second season premiere of V will air at 9/8c on ABC Tuesday, Jan 4.