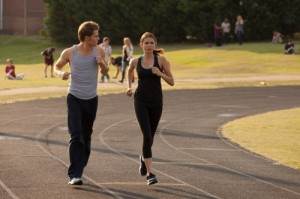 It's the first day of senior year on The Vampire Diaries which of course brings danger from many different angles and from many different sources. Who poses the biggest threat? The list is long; the vampire bodyguard without his humanity, the Original vampire left behind by her brother to keep watch, the lonely brother who just wants his sister back, the witch whose boyfriend is having long and meaningful discussions with his ghost ex-girlfriend or the hybrid who is loyal to the big enemy?
Things sure have got complicated since that first day of high school, from the pilot episode long ago and "Smells Like Teen Spirit" acted like a brilliantly 'bizarro world' version of this (and episode 2 of season 1).
Oh what a difference a year makes for Elena (Nina Dobrev) who reminds us and her friends that this first day of school is also the first anniversary of when she met Stefan (Paul Wesley). Instead of intrigue and longing looks the day is filled with snark filled remarks and disdainful glances. Stefan may catch Elena when she falls but this isn't an act of love, but merely because she is a "human blood bag." Elena however still has hope that they will eventually be able to de-ripper Stefan, a fact that he believes to be rather pathetic. Not so pathetic really, when she channels these comments to feed her strength and make Alaric's (Matt Davis) stake device work in Stefan's gut. This is after a training session that she had with Alaric that didn't go so well and thankfully Damon (Ian Somerhalder) went there with the Buffy comment otherwise I was going to have to do it (see also Damon's Xena reference: "oh Warrior Princess").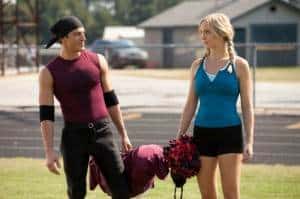 Stefan is an issue for sure, especially for the upholstery in the Salvatore mansion (at least Damon tries to keep the blood off the furniture), but they also have another house guest in the form of Rebekah (Claire Holt). Rebekah is sticking around to keep an eye on things and to annoy Caroline (Candice Accola) it would seem. In a competition of 'Vampire Barbie' vs 'Barbie Klaus' with Tyler (Michael Trevino) being the target things are going to get messy. This is further complicated by how Tyler has the rare attributes of being sired; he feels a certain innate loyalty to Klaus (Joseph Morgan) which makes his role in any Klaus plot complicated. Tyler's new vampireness has heightened his obnoxious side which could be a problem for his relationship with Caroline. What could also be a problem is his feeding from a human, which he easily did after a little nudge from Rebekah.
Someone else who got a nudge to do something dangerous was Matt (Zach Roerig) who brought Vicki (Kayla Ewell) back from the ghostly plain that she has been residing on. This of course came with consequences as she was doing it for a powerful witch (the Original witch I presume), who made a deal that Vicki had to restore the balance of nature; Elena has to die. Thanks to some well timed interference from Bonnie (Kat Graham) and Stefan being awoken from his vervain slumber in Alaric's flaming car this did not happen. Instead Matt said his heartbreaking goodbye to Vicky solving this issue. Or rather it solved the Vicky issue, from the rather awesome cliffhanger it would seem that Matt has opened up a door to some rather angry ghosts; hello Mason Lockwood (Taylor Kinney).
Katherine spent the episode trying to awake the key to killing Klaus; Mikael (Sebastian Roché). By feeding him the blood of a human she got him to speak but like Stefan use to be, Mikael does not drink the human stuff. So what does he drink? If only Katherine had asked that before breaking his chains, she might not have been so eager to do so. This "badass vampire, vampire hunter" happens to feed on the blood of vampires, making Katherine dinner for once.
The Damon/Elena flirtation is continuing which led to a rather hot and heavy demonstration of where a vampire's heart is- same place as a human one. This storyline is progressing at a speed that seems appropriate; will the presence of Stefan and his lack of humanity push Elena toward Damon at a quicker pace?
Other observations:
Instead of stoner Jeremy (Steven R. McQueen) in the bathroom that Elena is trying to help/chastise as was the case in the pilot, it is a blood high Tyler that plays this role. The set up for her exit is the same as the pilot; she runs into Stefan but with very different feelings than from the previous school year. History is once again the first class of the day.
Elena is jealous of Rebekah and Damon's fake flirtation at the bonfire as she was when Caroline vied for Stefan's attention at the previous school year's affair.
Stefan no longer has the 'romance novel' stare, in fact his eyes look devoid of any kind of feeling (which of course they are).
When will Alaric forgive Damon? What is a suitable time frame when it comes to neck braking?
There is an undeniable chemistry between Jeremy and Anna (Malese Jow) and even though Bonnie's objections seem fair I can't help but want something more for Jeremy and his vampire love.
Stefan's collection of women in the house felt similar to when Damon had his 'sorority girl' parties but this time with a blood related Twister game. Stefan really is rather dark in his blood sports.
That's right Tyler you have to earn the overnighter.
The Vampire Diaries sure has come a long way since their first day back at school in the pilot and "Smells Like Teen Spirit" nicely demonstrates this. I really can't heap enough praise on this show, which has already packed more into 6 episodes than most shows do in a season.
With the return of Mason, what other ghosts can we look forward to? Who would you like to see return? Do you prefer Stefan with or without his humanity? Let us know your thoughts on this episode in the comments below.
Next week; ghosts seeking vengeance.