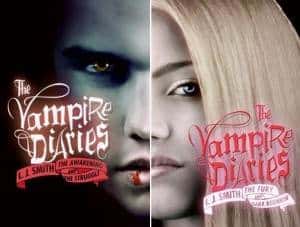 Most of this week, fans of The Vampire Diaries have been in a tizzy about a rumor circulating about TVD author L.J. Smith being fired from completing the book series that inspired what we have come to love as The Vampire Diaries on The CW. Yesterday, the author confirmed this strange news on her blog, unfortunately, which was first brought to our attention by Vampire Diaries Web and TVDNews.net. Here's what Smith wrote to fans on her official blog:
"…if you've asked me a question about the future books or the endgame of The Vampire Diaries and I've been vague about what's in store, I'd like to take this opportunity to apologize. I really wasn't looking forward to the day when I would have to talk about this."
The author continued on to plead with fans to not hold a boycott towards Harper, the publishing company behind the books.
"…I want to ask anyone who was thinking of it, not to boycott Harper's or anyone. It just doesn't make sense. Although I wanted and still want more than anything to be able to continue The Vampire Diaries series myself, there's no point in not trying the new books. (And remember, for fans of Bonnie and Damon, and strict Stefan and Elena fans, the immediate dynamics may be more to your liking.) Besides which, Midnight, which is all mine, is coming out in March, and I believe there may be some of my writing in Phantom."
Wow…
We know the question most of you are probably asking right now: how can an author be fired from her own book series? According to TVDnews.net, Ms. Smith actually doesn't own the rights to TVD, Alloy Enterainment does. Smith was hired to write the books back in the early to mid 90s, when they were originally published, and will be replaced by a ghost-writer to complete the series. The reason for the parting of the ways between book company and author? The good old-fashioned monster of creative differences.
SPOILERS FOR THE BOOKS!!!
Turns out that Alloy wants what the fans have called a "Stelena endgame" and not the ending Smith was intending to go with that might have included a "Delena" ending. Could the popularity of the show's storylines be a factor in Alloy's decision?
Bottom line, the whole situation is not only sad, but it's just… odd. L.J. Smith is synonymous with the TVD brand and it was her hard work that made the books what they were today. It will be kind of hard to look forward to later TVD books with another author's name on them. More on this story as it develops, but until then, what do you guys think?
Thanks again to TVDNews.Net and Vampire Diaries Web!