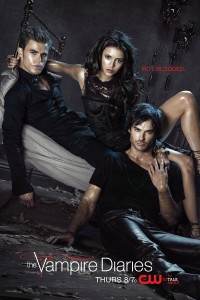 After what seemed like the longest hiatus ever – but was, in fact, only one week – The Vampire Diaries returns with a new episode tonight. The addition of Katherine this season (and the display of Nina Dobrev's pretty awesome acting range) has made this already great show even better. Last week we posted some spoilers about new characters that will be joining the cast soon, along with new relationships. This week we have another collection of spoilers primarily revolving around Katherine.
TV Fanatic reveals that we'll be learning a great deal about Katherine's master plan over the next four episodes. In addition, we'll be flashing back to her history – in Bulgaria. In episode 2.09, the show will be flashing back to 15th century Bulgaria to expose Katherine's family history and vampire origins to the audience.
As for Jeremy, TV Fanatic reveals that he'll be getting a new girlfriend – one that we may already know – and he'll no longer be content to be sitting on the sidelines. Steven R. McQueen reveals that Jeremy is going to start jumping into the middle of the action, instead of being a victim all the time.
Digital Spy reveals that Bonnie will run into trouble in her new role as a pretty developed witch. As she continues to develop her powers, she may not be able to cope with what happens to her. Producer Kevin Williamson hinted:
"She's coming into her own, and she's learning how to be a witch and how to be a strong witch, but we're also showing that there are some weaknesses involved and she's got to be careful," he said. "She doesn't really know. She doesn't have master Grams anymore to teach her anything. She's on her own. She's got that Grimoire, she can do stuff, but there's a price that she has to pay."
As for whether Elena will be turned into a vampire like she did in the novels, don't hold your breath. E!Online quotes Kevin Williamson as saying: "We have a pitch for that, but it won't be this year."
View a sneak peek and a promo for tonight's all new episode.
clarissa @ tvovermind.com
twitter.com/clarissa373