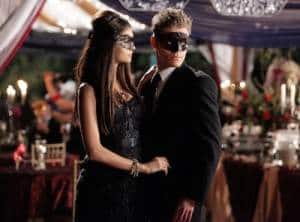 It's Thursday which means that it is time for a new episode of The Vampire Diaries, not only that but Ausiello over at Entertainment Weekly scored some casting scoop that looks like it could shake things up even more for our favourite residents of Mystic Falls.
Trent Ford (The West Wing, The Class) and Daniel Gillies (Spiderman 2, True Blood) have been cast as Trevor and Elijah, executive Julie Plec has revealed that
'They have deep ties to Katerina Petrova, they will be heavily featured in November Sweeps episodes "Rose" and "Katerina".'
They join Lauren Cohan, who was announced as a guest star a couple of weeks ago who will play Rose, the titular character of one of the November sweeps episodes.
In other The Vampire Diaries November sweeps news Julie Plec answered some burning fan questions over at Wetpaint.com, the question of why Katherine and Elena look alike will be tackled in these November sweeps episodes:
'We're going to start to learn more about that in episode eight and nine. I'm guessing those episodes will air in the first two weeks of November. Those two episodes will blow our mythology wide open. And they'll start answering a lot of these questions about what Katherine's doing in town, what the doppelganger story is and how Elena ties into it. All the juicy things that we've been keying up all season.'
We haven't even had tonight's explosive looking episode "Masquerade" and they are already spoiling us with teasers for the next few weeks. For any one who was worried that the pace of this show would slow I think that this news and the episode descriptions for these forthcoming episodes (that can be found here) will quash any fear of this kind. The Vampire Diaries is showing how you can have great storytelling with fast pace action without losing anything regarding character, and this new information from Plec only adds to the anticipation for what has been a terrific season so far.
For more questions answered by Julie Plec head to Wetpaint.com.
And to view promo photos and a sneak peak of tonight's episode "Masquerade" head here and here.