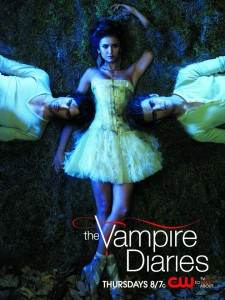 The day we thought would never come is finally here!
It's The Vampire Diaries Season Two Premiere Day and we are celebrating by listing the top five things we are looking forward to this upcoming season, as well as what we are hoping to see this year. Being a fan and a blogger of the show is kind of hard for most of us here at TVOvermind, because we try to keep some sort of element of surprise for when we watch the show, but when spoilers come our way, it is hard as hell not to look as we report them. So to avoid spoilers, yet gear up excitement for what's to come, let's view the Top Five Things We Are Hoping To See This Season on The Vampire Diaries.
#5 – More Insight in Mystic Falls' Supernatural History
One thing Jonathan Gilbert's diaries told us in season one was that Mystic Falls was a hotbed for supernatural activity, ranging from vampires to werewolves with witchcraft thrown in for good measure. Gilbert had plenty of volumes of his diaries and might've had more than the standard three supernatural elements in those tomes. Wonder if other creatures of the night might've made a stop through Mystic Falls and were documented by Gilbert and the Council, like a succubi or a banshee? Now, we aren't saying that we want a monster of the week formula to invade The Vampire Diaries (that would be just… heinous), but can we expect more history behind the supernatural happenings that seem to plague the town on and off since it's inception?
#4 – What's The Deal With The Council/Founding Families of Mystic Falls?
In the vein of a proverbial comeback taunt, who died and made the Founding Families king? The Council and most of the Founding Families had an ominous presence in season one, but they provided a much speculated mystery for us as to their origins. Who are they exactly? How many families are members of the Council? So far, we only know of the Salvatores, the Lockwoods, the Forbes, and the Fells, but we are sure there are more members than those four pulling the strings in the background. With the Lockwoods becoming a big factor this season, we hope to learn more about not only who else holds a seat on the Council, but if they are tinged with some sort of supernatural curse as well? One random thought: Speaking of Sheriff Elizabeth Forbes, is she using her ex-husband's name or is Forbes her actual maiden name? If it's the former, then maybe Caroline's father has journals hidden, as well? Or does Elizabeth have some journals hidden? Either way, Caroline is kinda royalty after all, in the worst sense, of course.
#3 – More Secondary Character Action
Now, we love the triangle that is Elena-Stefan-Damon, but the supporting characters of TVD are known to be complete scene stealers. There were times when we wanted to know more about what was going on with Jeremy, Bonnie, Caroline, and others than the latest Salvatore drama. We might be in a minority on that, but hey. It's truth. Now with news that these secondary characters are getting more screen time this season, it's safe to say that we are happy as hell about this, because they surely earned it.
#2 – "Wolf Like Me: The Lockwood Family Curse Story"
Every since we got the inkling that Tyler might be harboring a beast inside him last season, we have been itching for him to lose his damn mind and unleash it already. Tyler's overt testosterone, as well as his father Mayor Lockwood's mean streak, was explained as the Lockwoods having lyncanthropic tendencies, which could be dated back some decades. Some people thought that The Vampire Diaries was buying into the whole Twilight Saga bit by including werewolves in the story, but history dictates that vampires and werewolves have not been the best of friends since the beginning of time basically. TVD is no different, thank God… Now that Tyler's lineage is about to rip a new hole in Mystic Falls, the possibilities of how this could play out is beyond our wildest imaginations; which is why we are glad God gave us Kevin Williamson and Julie Plec to fill in the blanks.
#1 – Katherine
God, do we even have to dignify our anticipation for this girl to let loose on Mystic Falls?!?! Nina Dobrev as Katherine, in the short time we have seen her, exuberates hell in a corset. Her swagger game is on lock and she knows how to use it. Plus looking like Elena gives her ample ways to screw with not only the denizens of Mystic Falls heads, but ours as well. We know she's back for something, but what that could be is not the real question here. The question is who will she take down to get it?
Oh TVD, do you not see how much we have missed you?!!??!?
Did we leave out anything? Let us know by sharing your thoughts in the comments and forums! Meanwhile, check out all of our Season Two goodies by looking at promos for this season, as well as photos for episodes one, two, and three and a primer for this upcoming season.