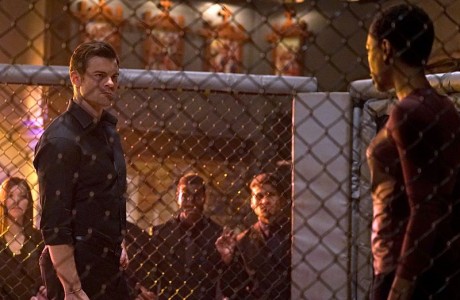 The Originals balances a nice equilibrium of action and drama with subtle romantic tensions under the surface. Klaus and Cami are the finest example as they're mad as hell at each other, yet they know the other won't hurt them.
Cami as a vampire takes some getting used to. To put it simply, she's got a bite to her now. At first I hated this new side to her usually sensible character but I'm starting to see the advantages to her change. She recognizes she made a huge mistake in taking the white oak horse from Klaus' possession. Technically it was Hope's favorite toy though, which can we talk about how normal that scene with Hayley and Klaus felt? Hayley sounded like any human mother reprimanding the father to be quiet before he wakes the baby up. It wasn't a laughing matter but it did make me smile seeing how normal they could almost be as a family. If only there weren't dozens of enemies conspiring against the father, of course.
The white oak horse was located by Davina but ultimately ended up in the hands of Aurora. Davina joining the Strix coven is already problematic. I can't deal with the fact that there's no sense of privacy with these witches. All they have to do is force their hands onto your head and they can find anything in your mind without your consent. At least it works both ways, so now Davina knows the Strix witch was a double agent for Aurora.
Sure, Aurora's fashioning the white oak into wooden bullets to more effectively take out her Mikaelson enemies but they don't even know the half of the trouble they're in. Marcel and Elijah worked together to get Marcel to take back control of the Strix from Aya. That's all good, but I'm wondering if there's any point where Marcel might actually decide to turn against the Mikaelsons. That would be the ultimate betrayal since he's considered family. Now he's even heard a very tempting offer from Aya regarding the Strix' plan with their witches. If all the witches (Davina included) work together, they believe they have a way to unlink the Strix vampires from their sires. Now I'm curious how far this spreads. Could it possibly unlink every single vampire from each of the Original's bloodline, or do they have to specifically spell their magic onto each individual? Either way, this is bad news for the Mikaelsons. All bets are off for them and they really would not be able to trust anyone.
Back to Cami and Klaus at the heart of the show, it's always interesting to hear Klaus refer to her as his therapist. She's so much more than that and their chemistry is proof. While it's technically her fault that the one weapon that can undo him is out of his hands now, Klaus restrains himself from ripping her heart out/head off/whatever other horrible method of revenge death the old Klaus would never hesitate on. They'll get through this together and maybe even share in the joy of taking Aurora down once and for all.
What did you think of this episode?
Check out the preview for next week here:
https://www.youtube.com/watch?v=DjG1pXKXkJk
The Originals Season 3 Episode 12 Review: "Dead Angels"
Summary
Elijah attempts to regain control of The Strix while the witches have their own hidden agenda.