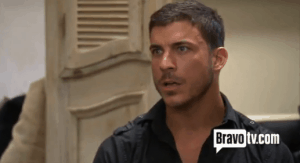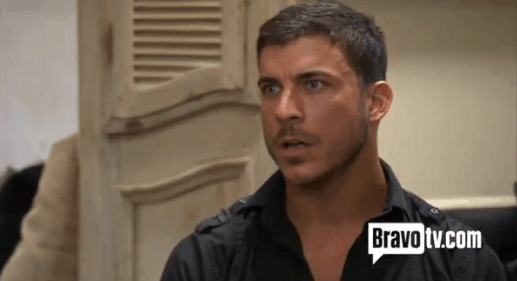 After the now infamous sit down with her SUR staff on last week's episode of Vanderpump Rules, will any of Lisa Vanderpump's employees heed her warning of shaping up or shipping out? Two words: Hell. No.
In two clips from tomorrow's all new episode of Vanderpump Rules, Lisa has another sit down with Jax and his new (seemingly unstable), rebound girlfriend Laura-Leigh to discuss their latest faux pas within the halls of SUR. According to an unknown source (more likely some footage Lisa saw, because it was in the trailers), Jax and Laura-Leigh were seen entering a SUR bathroom to engage in sex. You don't say?
Why these two couldn't wait to get it on at home is beyond me, but if Stassi wasn't far from their romp fest then Jax and Laura-Leigh are in the foul on this one. And that's saying something cause I don't even like Stassi like that. Moving on…
Speaking of Stassi, Frank the Bartender finally gets a first class seat to Stassi's deranged personality. While I sort of feel bad for the guy to witness such horror, I can't help but think he deserved every iota of crazy Stassi throws his way in the clip. See for yourself:
Hey, Frank, here's a tidbit: Do some research on the next girl you plan to date so that your dignity and sanity won't be compromised in the process. That is all.
Vanderpump Rules airs Mondays at a new time 9/8c on Bravo.
Photo Credit: BravoTV.com