Monday's Vanderpump Rules was just as messy as the entire Jax-Stassi-Laura Leigh-Frank debacle it's documented in the last few weeks. We had Scheana having a fit (although it was justifiable in a way), Stassi being read the riot act by both Lisa Vanderpump and Pandora on not being productive at SUR and their magazine, and Jax quickly coming to the realization that Laura-Leigh was not as stable as he thought she was. Why he was the last to notice this is beyond me, but the interactions between the one-sided friends with benefits couple in the episode were beyond awkward and a continent past sad.
Even though you could practically smell the death of Jax and Laura-Leigh's coupledom as the episode opened, it was still surprising how swift their relationship came to an end, with Jax being the one to deliver the merciful death-blow. The previews for this episode made it seem as if Jax went cold turkey on 'the best sex he's had in a long time,' but to his credit there were other factors leading up to his decision with the obvious one being his undying love for Stassi. Apparently, Laura-Leigh was also a recovery alcoholic along with being a recover meth addict and had a lapse moment in her judgement by having a drink or two without telling Jax. Seeing how being the supportive boyfriend of a former addict was going to be a total drag, Jax finally dropped his adorable lover act and rekindled feelings for Stassi that never really went away. So, Jax asked Laura-Leigh for a break, or for them to at least slow down on their relationship, which the young waitress didn't take too well. Foreshadowing much?
Meanwhile, Katie came to hold Stassi's hand as the Queen Bee 'lamented' over her break up with Frank. Knowing Katie, she was probably secretly screeching, "HA! Told you so!!!" in her head, but it would be social suicide to cross Sad Stassi again. Later, Stassi and Katie met with Scheana for a day in the sun and once Kristen showed up, claws came out for flesh. Luckily nobody was scathed this time around, but Stassi had two other sets of claws to worry about in the form of Lisa and her daughter Pandora.
After not receiving a fashion column from Stassi in the past month or so, Pandora informed her mother on how she's pretty much had it with Stassi's lack of professionalism and Lisa agreed, especially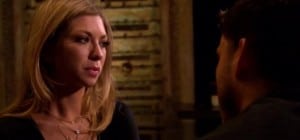 with Stassi's latest problems becoming a huge thorn in SUR's side. So the women invited Stassi over and read her from book to cover, bringing the self-proclaimed devil to a blubbering mess as she assured her two managers/friends that she would honestly do better in work endeavors. Poor tink, tink Stassi…
While Stassi had another worst day of her life, Jax met with the boys who wonder what the hell happened to Jax, the man who could easily pull hot and trashy girls into his sheet covered section of Tom's living room. The male model revealed the secret to his ladies' man stature was simply saying what his conquests wanted to hear. Keep that tidbit in mind for later. The conversation then turned to Stassi, who Tom wouldn't trust with his hair products, and we all know how that man is about his conditioners and moisturizers, so that's dead ass serious declaration there. Jax, however, admitted to his guy pals how much he really loved Stassi and screwed up royally. In other words, he would rather take his chances with Stassi than with Laura-Leigh, who just might be an actual psycho.
Now Vanderpump Rules wouldn't be complete without behind the bar drama and this episode gave us a double serving of SUR dramatics. First up was Lisa's dinner for her friend Mohammed, which she enlisted Peter and Katie to help plan. She only asked Peter for one thing: Do not put Scheana on the schedule for that night, due to the issues between the singer/waitress and RHOBH co-star Brandi Glanville. While I am in love with all things Lisa Vanderpump, I disagreed (always have) with her sentiments of the guests coming first and being right always. In theory, that's the best way to run a successful business, but there has to be a point where that sentiment has to be put on the back burner; especially if the guests purposely degrade and insult your employees. Now when it came to Scheana and Brandi (who I also love), I could have sworn the two of them sorted out their differences in the first episode. So why would it still be an issue now? But I digress…
Peter didn't pay attention to the one thing Lisa told him to do and accidentally scheduled Scheana either to work the party or the other part of SUR during the same time. In the process, he told Scheana that it was important for her to be there at the party, which prompted her to miss out on an important audition to keep her job. Long story short, when Scheana found out Peter's faux pas, the anger and tears flew. She eventually ended up leaving SUR for the night out of frustration of missing her audition and the fact Brandi would be there. Ai Yi Yi…
On a totally different night, Peter scheduled Stassi and Laura-Leigh to work in the same area, which sent Stassi up the wall. Not one to be scared of Her Highness, Laura-Leigh confronted a totally blasè Stassi about being continually harassed through text messages, which Lisa actually ordered Stassi to stop doing. Not to be deterred, Stassi dropped several bombs on Laura-Leigh that dealt with Jax texting Stassi to tell her how much he loved her and not Laura-Leigh, who didn't believe the truth coming out of Stassi's mouth. In the end, Stassi went home after begging another manager to not make her work with the "single, white female" known as Laura-Leigh. So much for turning a new leaf there for Lisa, Stassi…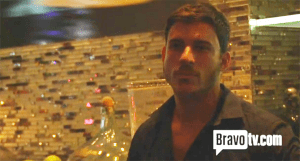 Finally we get to the pseudo-make up of Stassi and Jax and the chilly break-up of Jax and Laura-Leigh, both of which made Jax look like an even bigger douchebag than ever before. With Stassi, Jax stated how he had seen her as 'The One.' The One he wanted to spend the rest of his life with, The One he wanted to have babies with, The One he told his parents might be The One. And of course, Stassi ate this butter up like a 5-star course dinner with an even more expensive wine. Sure she didn't show her hand while Jax bled his heart out to her and luckily didn't give in to him completely. But she gave enough for Jax to know that his age-old trick of "just saying what they want to hear" played off yet again, which in turn gave him the out he needed with Laura-Leigh. However, he totally went about it the wrong way. As always.
Laura-Leigh later confronted Jax at work about not calling or texting her at all in the last day or so, making me wonder even more just how much time flies between events on Vanderpump Rules. Whether Jax went cold turkey in one day or one week, Laura-Leigh was not having it and laid into Jax's ass for being too much of a coward to be up front with her. The scene was like an unbalanced horror comedy, where you didn't know whether to laugh your ass off or scream in trepidation as Laura-Leigh channeled Erika Christensen from Swimfan, the low-brow teen version of Fatal Attraction. Yeah, L.L. wasn't even worthy enough to reach Glenn Close level terror. In the end, Jax came clean to Laura-Leigh, leaving the girl broken, lost, and angry enough to come back for a sequel confrontation. The sad thing is that next week is the finale, meaning she might not get much screen time in the inevitable reunion between Stassi and Jax. But there's always the Vanderpump Rules reunion to look forward to…
So that was this week's penultimate episode of the first season of Vanderpump Rules, which hopefully will get picked up for a second season. What did you think of the so-called reunion between Stassi and Jax?
Photo Credits: BravoTV.com