Hail Queen Stassi! When Vandepump Rules premiered last month, I never would have thought any set of words praising resident hellraiser Stassi Schroeder would be uttered from not only my mouth, but the tip of fingers as well. Well, like Stassi and former enemy Scheana Marie's newfound friendship, anything no matter how unlikely it may be, is most definitely possible.
Last night's season finale was a true triumph for the Queen Bee of the SUR staff, who not only made up with her bestie Kristen Dout, but was also vindicated for her crappy treatment of ex-boyfriend Jax Taylor, who actually turned out to be Captain Douchebag all along. Apparently, Frank the Tank's accusations of Frank sleeping with a Las Vegas waitress (stripper?) and knocking her up in the process were true, but personally that doesn't excuse him from his own flavor of 'douchebaggery'  and I'm glad his presence on the episode was limited to only flashback clips and nothing more. However, the news of Jax's deceit sent everyone at SUR, including his buddies Tom Schwartz, Tom Sandoval, and Peter, into a tailspin of "that dirty son of a!" reactions from everyone in the building. Oh, but Jax didn't stop there. Before coming clean to Stassi and the SUR staff, the 33-year old model met with Lisa Vanderpump to tell her that he was done working at SUR, because to make things right with Stassi, it would be the best thing to do. Um… Okay then, Jax, whatever floats your boat. But if there is a season two of Vanderpump Rules, you can bet your ass Jax will be front and center begging for Stassi to take him back, while slinging cocktails behind the bar at SUR. In other words, Jax's dramatic 'exit' didn't fool me one bit. If he doesn't return for season two, then and only then will I be truly "VanderShocked."
While the Jax and Stassi love story was coming towards its inevitable train wreck of an ending, the rest of the episode played like a big wrap up party for storylines and dangling threads, such as Laura-Leigh, who landed a "major movie role" opposite Jennifer Aniston in North Carolina and quit SUR in the process. I'm happy as a tick on a hound dog that Laura-Leigh got her life after being dumped by Jax. Hopefully, the new Jennifer Aniston movie will help lead her to bigger roles. That is if the casting director didn't see how much of a nymphomanic nutjob she can be… Still got love for her, though!
As stated above, Stassi finally made up with Kristen, who basically got tired of being on the friendship bench for too long and was ready to jump back into the thick of things. Like Katie, it was Kristen who made the first move by initiating the make-up convo and apologizing for not being there for Stassi in her time of need.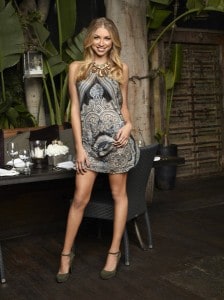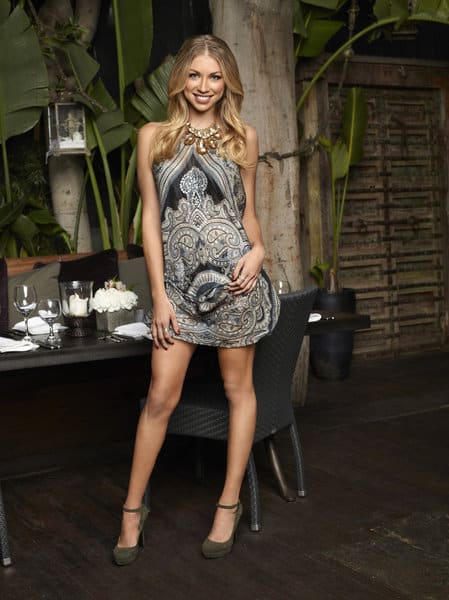 To defend Kristen and Katie, I would have done the same thing if I were in their shoes, because Frank and his erratic accusations came out of nowhere with no hint or warning. If I liked a girl and found out that her boyfriend was doing dirt, and had a some proof to back it up, i would have made my move then instead of waiting two months later to report it. So in some respects, I can see where K&K were coming from in their stance on the situation. However, now that we know Jax did in fact screw Stassi over, making them all look like a fool in the process, I'm sure Kristen, Katie, and even the Toms and Peter all feel like complete jackasses. I'm sure there was a "We're Sorry, Queen Stassi! Please Forgive Us!" party thrown afterwards where everyone in attendance had to either slit a body part with a Stassi designed dagger or literally kiss her ass for their insubordination. Hopefully said event will make The Lost Tapes/Footage episode…
Finally there was the SUR (aka Vanderpump Rules) promotional photo shoot where all the staff members participated in and the Jax and Stassi drama reached new heights. While getting ready for the shoot, Lisa called Stassi out (in a 1-on-1 conversation, thankfully) for having dinner with Frank at Villa Blanca after she fired him not too long ago. Lisa explained why the move/dinner was tacky in several ways, most notably how it sent a message to Jax, who was doing his damnedest to get back on Stassi's good side. Basically, it was Stassi being messy for no reason whatsoever, which Lisa stated before warning Stassi that the news would hit Jax eventually. And 'eventually' ended up being the almost five minutes later.
Jax asked Stassi whether or not if he was wasting his time trying to patch things up with her, which Stassi denied, but in her own snooty way. Despite frustration on both of their parts, the photo shoot between the two turned out to be hot and bothersome for not only themselves, but the photographer and onlookers as well. You would think things were headed in a decent direction for Stassi and Jax, but then we see Mr. Taylor talking to a psychiatrist, who I had to research to see if she wasn't one of the shrinks of Bravo's new show, L.A. Shrinks, which premieres next Monday. If you cared to know, she wasn't, but that still didn't mean Bravo didn't plug their new L.A. based reality show during the commercial break after the psych scene aired. But I digress…
Whatever life lesson the shrink told Jax sent the guy into 'truth' mode, which sent him to the SUR photo shoot after party to deliver his resignation to Lisa, break Stassi's heart all over again, and come clean to his friends and coworkers about being a lying, backstabbing cheat. Somewhere in North Carolina, Laura-Leigh was probably cackling after hearing of Jax's social life coming to a tragic and unsatisfying end. At least for now, that is. So now that Jax is no longer a SUR employee (until next season I bet) and isn't the focal point of Stassi's love/rage, what will happen next? You guessed it. Vanderpump Rules Reunion, baby!!!!
Other Moments of the Night
– Peter and the rest of the male staff members of SUR stuffing their speedos/swim trunks with socks. Jax claimed that all male models uses a sock during photo shoots of that caliber, which doesn't bode well for the egos of male models everywhere.
– Scheana apologizing to Lisa for running home like a baby was slightly odd, but I guess the waitress/singer had to wrap up some part of her storyline since the Jax/Stassi debacle took over the entire first season of Vanderpump Rules.
– Peter describing Jax lying to his face "Bill Clinton-style" about sleeping with Stassi had me howling. Please get this man a bigger role next year (if there is one).
Well that was the first season of Vanderpump Rules, folks! What did you think? Will the reunion give us any answers that we don't already know? Should there be a second season? Sound of below!
Photo Credit: Bravo