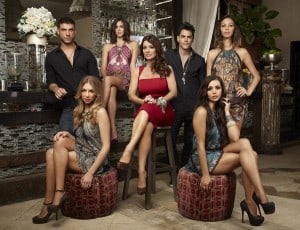 After one look at Bravo's latest docusoap, Vanderpump Rules, the spinoff to The Real Housewives of Beverly Hills, only one thing came to mind: Melrose Place – The Reality TV Series.
Now before you vow to never let this show grace the screen of your television set, hear me out. My analogy isn't one of woe, but one of complete and utter glee. Vanderpump Rules has everything that one could easily compare to the infamous FOX primetime soap, but only better, modern, and trashier in every way possible. We have Lisa Vanderpump (aka the Amanda Woodward of the show) as the leader of her wayward SUR staff, who according to the double duty Beverly Hills Housewife are "sleeping with each other." If you think she's exaggerating, you should check out the bios of the cast members. The six leads have either dated, tried to date, or are dating each other with left over feelings from previous relationships. It's one big mess and I cannot wait to get my eyes glued into the drama behind the counter of SUR.
As for the six leads, they could easily populate the infamous 4616 apartment complex and make a scandalous name for themselves. We have Jax, the bad boy model/actor who bartends at SUR and is a problem for his live in girlfriend, Stassi, who also works at SUR. Katie supervises the music blaring through SUR's sound speakers, but what she needs to focus on is her lack of a backbone and voice, which tends to get lost in the chaos of her friendship with fellow SUR hostesses Kristen and Stassi. Then there is Kristen, who seems like the pot stirrer of the group, which doesn't bode well for her nor her job at SUR despite being the one person who's been there the longest in the cast.
There is Kristen's boyfriend Tom, who has already irked me by listing being in Puppet Master: Axis of Evil as one of his accomplishments in his bio. He has a lot to make up for that faux pas. Also there is Scheana, who you all might remember as the girl Brandi Glanville called out for sleeping with her ex-husband Eddie Cibrian at Lisa's SUR event last year. According to her bio, she's still trying to shake off the "home wrecker" stamp Brandi gave her, which should be interesting since she's set her eyes on Jax, who we all know is shacked up with Stassi. Seems like someone hasn't learned their lesson yet. And finally, there is Stassi, a former The Amazing Race contestant whose mouth is legendary, because it seems as if she doesn't know how to control it. And we know that there is only one smart-ass in the bunch, and Lisa doesn't like to be outdone with the wit.
With all of that drama, how does Vanderpump Rules not compare to Melrose Place in some capacity? One thing is for sure, it will sure as hell make up for Most Eligible Dallas, which I'm still quite not sure what the relevance of that show was. If you haven't seen the trailer for Vanderpump Rules, then check it out in all its glory:
Can January 7th get here any faster?
Well, Mondays will be a pain (or rather whineier since The Real Housewives of Beverly Hills airs an hour before) all over again and I'm sure the denizens of Melrose Place would give the shenanigans of Vanderpump Rules an A+ as the newest guilty pleasure on the block.
Vanderpump Rules premieres on Monday, January 7th @10/9c on Bravo.
Photo Credit: Bravo/Tommy Garcia