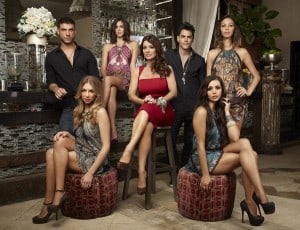 So after months of built up anticipation, did Bravo's spinoff of The Real Housewives of Beverly Hills, the aptly titled Vanderpump Rules, live up to my expectations? Yes. With abundance.
As predicted, the new show, which showcases the personal lives of Lisa Vanderpump's SUR staff, oozed of Melrose Place-esque goodness, but with a healthy dose of Mean Girls and Beverly Hills, 90210 thrown into the mix. You can attribute that flavor to heels, waitress Stassi Schroeder, who made sure to mark her territory as Queen among SUR's staff not even two minutes into the show's premiere. Her minions, Kristen Doute and Katie Maloney, followed suit in making new girl Scheana Marie's life a living hell like any self-respecting clique of an ultra cool teen drama would do. Meanwhile, the male persuasion of the show Jax Taylor and Tom Sandoval just stand back and look 'hot' until the camera asks them to speak or drink while complaining about their love lives to each other. Of course, Jax and Tom's love lives involves Stassi and Kristen, who are their live-in girlfriends, respectively.
If you pegged Vanderpump Rules as a vapid piece of fluff, then you would be right on the money. But that's the beauty of it. The cast is ridiculously sexy and will make you want to hurl everything in arms reach at your TV screen every time someone utters a comment or trash talk about their fellow co-worker (or in this group's case, their significant other). From the outset, there is tension among this so-called tight-knit group of friends that is thick and ready to snap. The fun part comes in waiting to see just which one of these gorgeous brats will draw first blood and end up being canned by boss Lisa Vanderpump, who does just that in a future episode of the show.
The premiere episode dealt more with establishing the main six cast members relationships with each other, focusing more on the Stassi vs. Scheana rivalry/hatred and Jax and Stassi's seemingly toxic relationship. In fact, Stassi is/will be the epicenter of the conflict on Vanderpump Rules, taking her mean girl status to heart a little too proudly if you ask me. But the joke is severely on her since just about everyone, including her boy toy Jax, are pretty much over her making it a joy to watch as her bubble of self-delusion get annihilated weekly. Hell, I'm even betting that Ms. Schroeder will be the unfortunate soul who will get the boot by Lisa towards the end of the season. And if she isn't, I'm sure she would have a hand in the firing in some capacity.
Also during the premiere, we found out that Scheana is a singer and thinks she looks like Brittany Spears. I don't see the resemblance at all, but okay then. Tom Sandoval is all about his hair care products, which isn't all that bad. Peter, SUR's manager, used to date Stassi but ran screaming for the hills after four months with the self-proclaimed "devil". The standard SUR uniform for the women is a thin piece of fabric (I'm sure there's a proper name for it, but don't care to find it now) which requires several pieces of tape for it to stick properly to the wearer's figure.Then there is the fact that Kristen and Katie could pass as twins, who are both dating guys named Tom (Katie's boyfriend is named Tom Schwartz). How cute is that?
There are plenty of other SUR staff members who won't get top billing, but will hopefully that will change if the show takes off and becomes a hit. Until then, we are stuck with Stassi, Jax, Scheana, Kristen, Katie, and Tom to serve us a weekly dose of drama in a cocktail.
What were your thoughts on Vanderpump Rules?
Photo Credit: Bravo