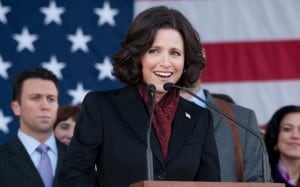 Vice President Selina Meyer was blindsided last week on Veep when POTUS gave an interview that put the shutdown blame squarely on her shoulders. This season, Selina had been trying to get into POTUS' good graces and boost her own career in the process, but it turns out that he might have dealt her momentum the most severe blow of all, as she's now left scrambling to try and shift the narrative and defend herself – without being too defensive. Can Selina find a way to halt talk of her lack of negotiation skills being the reason for the shutdown and get her career back on track?
On tonight's episode of Veep, Selina and her team have set up a nationally televised interview meant to show her in a better light than her recent string of press coverage. Andrew and Catherine have been recruited to help paint the picture of the perfect American family, much to their chagrin, while Selina's prepared for a certain line of questioning that emphasizes her strengths and hides her weaknesses. However, the interviewer (guest star Allison Janney) has other ideas and springs questions on the Veep that she didn't expect, something that could make her look incompetent and confirm the narrative that POTUS created in his online interview. Selina doesn't get many chances to show her stuff in front of the American people like this one and if she can't find a way to turn it around and think on her feet, the next two years of her term will find her as a lame-duck Vice President and vulnerable to replacement before POTUS' reelection campaign.
Due to the extended season finale of Game of Thrones, Veep airs tonight at 10:10 on HBO.
How will Selina handle the unexpected line of questioning from the interview? Is this going to help save her political reputation and stop the bleeding that POTUS caused? Should the interview end up going exceedingly poorly, could Selina be looking at losing Dan for good?