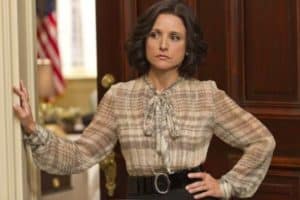 Like its HBO comedy cousin Enlightened, Veep will be getting a marathon of its first season on HBO Zone. Beginning on Saturday, June 16th at 4:00 p.m., the political comedy will be airing its first eight episodes straight through, three times in a row. The show's pilot, titled "Fundraiser", will be airing at 4:00, 8:00, and midnight, respectively, with seven episodes of acidic banter, glorious vulgarity, and bureaucratic commentary to follow. Veep aired its season finale on Sunday, June 10th and has a second season of 10 episodes coming in 2013.
Below are the initial times, episode names, and episode descriptions for the Veep marathon, with video previews linked to each episode.
SATURDAY, JUNE 16
4:00-4:30 p.m.
"Fundraiser"
VP Selina Meyer wants to make the implementation of a Clean Jobs Commission her main legacy, but then a Tweet from a staffer annoys the plastics industry, she makes an offensive joke at a fundraiser, and her chief of staff forgetfully signs her own name on a condolence card for the wife of a senator who just died.
4:30-5:00 p.m.
"Frozen Yoghurt"
A health scare temporarily allows VP Meyer to be commander-in-chief but delays her plan for a media meet-and-greet at the local yogurt store, showcasing a flavor named after her. She arrives to find only melting vanilla, stray bloggers, and some angry store owners.
5:00-5:30 p.m.
"Catherine"
The VP and her team discover that her appointee for the Clean Jobs Commission is unacceptable. As the party in celebration of her 20 years in politics approaches, Meyer worries about gossip that she's a diva, tries to figure out what kind of pet dog she should get, and deals with her daughter Catherine, visiting while on break from college.
5:30-6:00 p.m.
"Chung"
Following an interview on Meet the Press, a slip of the tongue by Selina is misconstrued as a racist dig at one of her political rivals. The VP and her team go into recovery mode, trying to take the spotlight off Selina by visiting the sick and injured at a local hospital.
6:00-6:30 p.m.
"Nicknames"
Bloggers' nicknames for Selina become her next obsession; Dan goes on a fact-finding mission after his boss is snubbed by the president; it's make-or-break time for the clean-jobs bill.
6:30-7:00 p.m.
"Baseball"
Selina hosts a conference to promote healthy eating at Baltimore's Camden Yards baseball park, but her pitch is balked at by some foul-tempered fast-food executives. Meanwhile, Mike holds a press briefing for local reporters; and Amy and Dan do their best to entertain students at an elementary school before the vice president arrives.
7:00-7:30 p.m.
"Full Disclosure"
With a rumor and personnel changes causing trouble, Selina decides that portions of all office correspondence will be available to the public, and later, she and Dan sever her connections to the Clean Jobs Bill and threatens to fire someone.
7:30-8:00 p.m.
"Tears"
Selina visits Ohio to officially endorse a candidate for the governor, but he doesn't want the low-rated vice president's support. Dan goes to a congressional hearing for the Clean Jobs Bill. Mike and Amy decide to make use of Selina's emotional state.