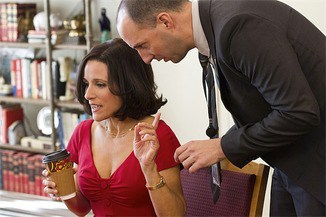 Another spring, more Selina.
HBO has announced that political comedy Veep will be returning for a second season on Sunday, April 14th at 10:00. The show, whose star Julia Louis-Dreyfus won an Emmy for her performance as Vice President Selina Meyer, trails the season premiere of Game of Thrones by two weeks, an improvement over the three-week lag between the two shows last season. HBO has yet to confirm which comedy, if any, it will be placing in the 10:30 spot vacated by Girls, which would also likely be the final show of the spring lineup to premiere.
When we last left Veep, Selina looked to have turned around her string of poor PR and public gaffes with her performance at a fundraising event in Ohio (and a teary interview arranged by Mike and Amy), only to be brought under investigation and have her polling numbers sink even further. All that the Veep wants to do is make a difference and feel like she even has the ability to do so, but with the Macauley Amendment failing and a closer watch being placed on how she does business, season two could find her becoming even more cynical about American politics.
Or, of course, she could overcorrect and become even more hungry to guide a pet project through Congress and eventually become a law.
In addition to Louis-Dreyfus, Veep stars Anna Chlumsky, Tony Hale, Matt Walsh, Reid Scott, Timothy Simons, and Sufe Bradshaw. Guest starring on the second season of Veep are Gary Cole (Entourage) as a Karl Rove-like character named Kent and Kevin Dunn (Luck) as Ben, Chief of Staff for the President.
You can check out a teaser for the 10-episode season here.
Will you be watching Veep this season? What would you like to see Selina and her team up to in season two? If the investigation into her fails to turn up anything, should the Veep continue to push legislation?