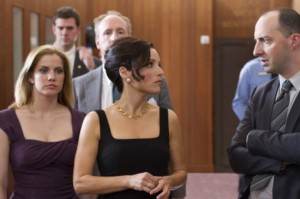 Vice President Selina Meyer may be in a little over her head. Once a major contender for the presidency, only to be brought down by a poor hat choice, Meyer has been left with a whole lot of grunt work. Instead of enacting real change and being the leader of the free world, she's trying to get her (relatively minor) pet projects through the D.C. wringer and onto the Senate floor for debate. And for some reason, the President still hasn't called her, despite using her as a fill-in speaker at a recent fundraiser. It's enough to overwhelm even the toughest of politicos, but judging by the descriptions of the next batch of episodes, her lack of political pull may be the least of her troubles.
Below are the initial air dates, episode names, episode descriptions, and repeat dates for the episodes three through six of Veep.
SUNDAY, MAY 6 (10:00-10:30 p.m. ET/PT)
"Catherine"
Faced with a trumped-up story of a rift between the Veep and the First Lady, Selina (Julia Louis-Dreyfus) quells accusations that everything is about her — even though it is. The Veep's office goes into spin control about the appointment of an 'oil guy'to the Clean Jobs taskforce. Gary (Tony Hale) selects candidates for the VP dog, though Selina's daughter Catherine (Sarah Sutherland), who is visiting from college, gets final say.
Other HBO playdates: May 6 (midnight), 8 (10:30 p.m.) and 9 (9:00 p.m.)
HBO2 playdates: May 7 (8:00 p.m.), 8 (11:30 p.m.), 10 (11:00 p.m.), 12 (3:30 p.m., 9:30 p.m.) and 18 (8:30 p.m.)
SUNDAY, MAY 13 (10:00-10:30 p.m.)
"Chung"
Dan (Reid Scott) and Amy (Anna Chlumsky) attend a book launch for Gov. Danny Chung (Randall Park), a charismatic Asian-American war hero, who Selina worries could be a political threat. Meanwhile, Selina preps with Mike (Matt Walsh) for a 'Meet the Press'interview, landing on football as her 'regular-people'talking point. Later, Gary and Amy discover that Selina has a lover.
Other HBO playdates: May 13 (midnight), 15 (10:30 p.m.) and 16 (9:00 p.m.)
HBO2 playdates: May 14 (8:00 p.m.), 15 (11:30 p.m.), 17 (11:15 p.m.), 18 (9:00 p.m.) and 19 (6:00 p.m., 9:30 p.m.)
SUNDAY, MAY 20 (10:00-10:30 p.m.)
'Nicknames'
Selina becomes obsessed with the many unflattering nicknames given to her by bloggers, and after being snubbed from a Senate briefing by the POTUS, assigns Dan to get White House intel from Jonah (Timothy C. Simons). Later, Dan's political maneuvering puts the fate of the Clean Jobs Bill on the line.
Other HBO playdates: May 20 (midnight), 22 (9:00 p.m.) and 23 (9:00 p.m.)
HBO2 playdates: May 21 (8:00 p.m.), 22 (11:30 p.m.), 24 (11:15 p.m.) and 26 (4:30 p.m., 9:30 pm)
SUNDAY, MAY 27 (10:00-10:30 p.m.)
'Baseball'
Selina attends a healthy eating event at Camden Yards with some very grumpy fast-food executives, where she also confides a secret to Amy. Mike holds a press briefing for some local news pals, save for the inquisitive Leon West (Brian Huskey). Later, with the Veep delayed, Amy and Dan are forced to entertain elementary school children.
Other HBO playdates: May 27 (midnight), 29 (10:30 p.m.) and 30 (9:00 p.m.)
HBO2 playdates: May 28 (8:00 p.m.), 29 (11:30 p.m.) and 31 (11:00 p.m.)
Veep airs Sundays at 10:00 on HBO. Details for next week's episode, titled 'Frozen Yoghurt', can be found here, while the pilot can be viewed for free (for a limited time) on Youtube and HBO.com.
If you've already watched the Veep pilot, what did you think about it? Are you excited to see Selina try to learn how to be an effective Vice President? Do you think either of her projects will see any progress?