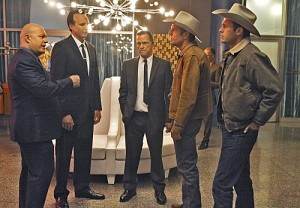 Dennis Quaid is coming to television this fall in the new CBS period drama, Vegas.
The gambling capital was just starting to emerge from the dessert back then, but all Lamb wants to do is run his ranch in peace. With corruption coming to the city, the Mayor calls on Lamb — a former military police officer during World War II — and tasks him with investigating the murder of a casino worker. This investigation brings Lamb in direct conflict with Vincent Savino (Michael Chiklis), a Chicago gangster who has big plans for the new city.
Fortunately, Lamb has some help in the form of his two deputies: his brother, Jack (Jason O'Mara) and his nephew Dixon (Taylor Handley). Carrie-Anne Moss plays Assistant District Attorney Katherine O'Connell, who grew up on the ranch next to Lamb's and helps him in prosecuting cases.
Set in the 1960s, Quaid plays Sheriff Ralph Lamb, a fourth-generation rancher who is responsible for maintaining order in Las Vegas.
Watch a featurette with clips for Vegas below, which will be airing on Tuesday nights at 10:00 p.m. beginning in the fall.
For more on CBS' 2012-2013 primetime schedule, click here.
Twitter: https://twitter.com/#!/Vegas_CBS
Facebook: https://www.facebook.com/VegasCBS