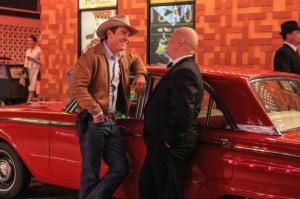 Tonight on Vegas, the Lamb brothers investigate the murder of a Savoy craps dealer.  Normal enough, until a desperate suspect in their case decides to take Mia hostage, bartering for his getaway.  After his own detective work last week, Savino decides to play dirty with Gainsley (whom we previously met in 'Paiutes') when The Tumbleweed Casino finally reopens.  And of course there's Yvonne.  She will begin to question her budding relationship with Dixon when her ethnic background becomes an issue.
So many questions for Vegas this week!  Will Jack be able to handle the case while Mia's life is at stake?  And what of Savino?  Surely he has some resentment towards The Tumbleweed – what will he do next?
Check out the sneak peek below. It's moments like this that remind me why I love Vegas so much – Sheriff Ralph Lamb has no problem mocking a mobster, while subtly warning him to watch his back.
Tune into CBS tonight at 9 PM for the penultimate episode of Vegas Season 1.
[cf]video_one[/cf]