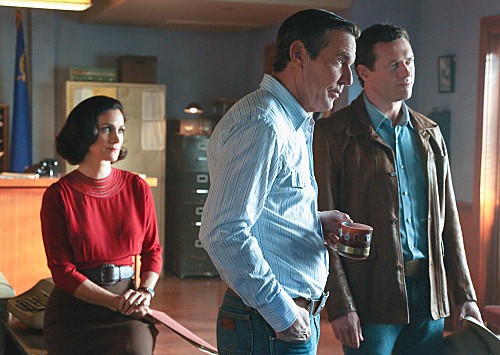 After being preempted last week for the State of the Union address, Vegas returns tonight with an all new episode!
When we last visited the strip everyone was working around the death of Johnny Rizzo, at the hands of Deputy Jack Lamb – though, that little fact is unknown to everyone, even Jack's girlfriend, and the deceased's daughter, Mia Rizzo.  Though, Savino knows as he is the one who orchestrated the scene causing Jack to kill the mobster.
Tonight, Hollywood comes to Vegas, bringing a gaggle of film company, including a wild starlet whom Dixon is assigned to keep an eye on.  Meanwhile, Sheriff Lamb must investigate the death of a man found in his car as Savino panics to avoid FBI attention.
Will Jack's secret come out?
Will Savino's operation be found out?
And surely there's more to the movie shoot than just a movie shoot, right?
Tune in to a new Vegas tonight at 10/9c on CBS.
Watch the promo for tonight's episode below!
http://www.youtube.com/watch?v=cSTA2wtDhqw