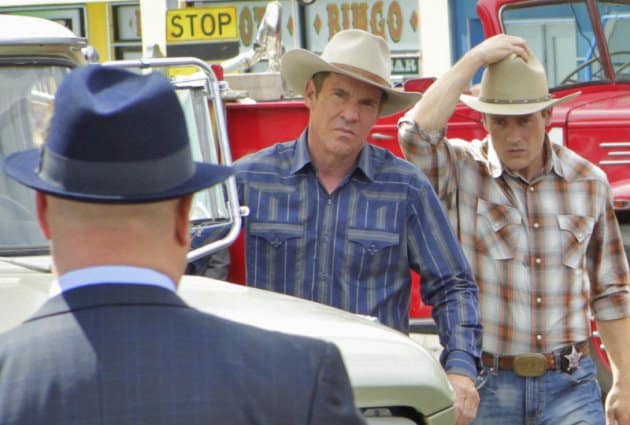 Thanks to the second presidential debate we went without Vegas last week.  But it returns tonight…with a mob war!
When we left Sin City two weeks ago it was with images of good-guy Sheriff Ralph Lamb tipping his hat and Vincent Savino shaking in his pinstripes.  The visit from Savino's "associates" left him clearly uneasy at his position in the mob operation, yet still pretty damn determined to get what he wants.  Not one to settle, Savino is interested in expanding The Savoy to take advantage of the booming tourist economy in Las Vegas, though, when he proposed his plan to a very influential member of the circle, Johnny Rizzo (Mia Rizzo's father – coincidence?) things didn't exactly go as planned.
Rizzo has some…anger issues that ended up directed at Sheriff Lamb, who in all actuality, was trying to help Savino when he told him to keep Rizzo off the casino's floor.
We also watched as Sheriff Lamb took another murder case, this time one that led to a domestic abuse issue.  When Olympic Gold Medal boxer Tommy Carol was found murdered, the Lamb officers followed the case, discovering that Tommy was trying to help the wife of a teammate escape her abuse, and got himself killed when he was believed to be the man his wife was having an affair with.
Last week saw a softer, more concerned side of Savino, and the gentlemanly, good-nature of Lamb, but what will happen tonight?
Tonight, when Savino tries to invest in a local casino that a Milwaukee group has been eyeing, the Milwaukee mob comes after him, and Lamb investigates the murder of an African American maid, uncovering her connection to one of the town's most prominent businessmen.  In a time when affairs between the races were taboo, Sheriff Lamb is in for an earful by the town's leading men.  Add on top of that a mob war that he will no doubt be sucked into.
http://www.youtube.com/watch?v=jTe2QmdxWXE
Action and scandal – keep it coming Vegas!
Vegas airs tonight at 10/9c on CBS.