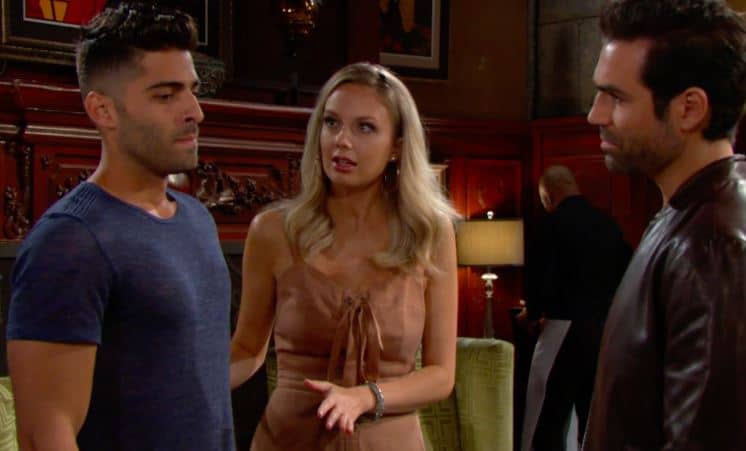 Young and the Restless fans are all sitting at home on this Monday getting ready for work and being thankful and happy that they don't have any life problems like the ones Phyllis and Nick have with their daughter, Summer. She's a mess, and there is nothing they can say or do for her that will change that. They have life problems. They have life issues. They have a situation in which they don't have a moment to lose with one another. She's trying to take her mother's boyfriend from her by seducing him and trying to get him to fall for her. She's not even concerned about how this will hurt her mother or her father. She's just concerned with what she wants and what she is doing. She wants what she wants, and the fact that her family is being torn apart is of no concern to her at this point.
Then there is Victoria trying to get Nate to stay out of her life and leave her alone. She's upset with him, and she's not letting that go. Neil is trying so hard to get Ashley to want to be with him and to fall for him. He's going out of his way to make sure that they can get their lives together, and he is adamant he wants her to be part of his. Finally, we are watching a Lily's life turns upside down. She's upset that this is all happening to her, and Cane is doing all he can to make it right for her. She's having horrible nightmares about it, and she's in a bad place as a whole. He's trying to make things okay with his wife, but she's not happy with the way her life is going. It's not good news.
What's Happening on Young and the Restless
@ginatognoni WOW! Your scenes today blew me away! Just when I think I couldn't love you more, you did that! Bravo! Not enough words to describe how brilliant you are! 👏❤️#yr

— Natalie (@Nat_5204) August 24, 2018
When fans love what the actors have to show, they like to let them know. And it turns out that Phyllis' bad luck in life has turned into the best thing that's happened to her with her fans. They are loving seeing her in this new light with all this new stuff happening, and we cannot even be sure we disagree. There's a lot happening, and a lot of that is going to turn around to make things more interesting as a whole. It's something we love, and we cannot get over it.
What's Next on the Young and the Restless
Will a mysterious stranger discover a secret that will push Victoria over the edge? Find out this week on #YR! pic.twitter.com/ydnbdXWfXI

— Young and Restless (@YandR_CBS) August 26, 2018
It looks like this week is going to start with a bit of a bang. There is a lot going on, and most of it is good news for some people. For one, we are going to see that Billy is finally going to man up and tell Phyllis what is going on in his life. He's been keeping things from her left and right, and that's not good news for anyone. They have a lot to deal with right now, and there is not much they can do to get this under control. For the moment, though, he will finally be honest with her. What's going to happen when he tells her, though, is beyond us. There's just nothing there we can figure out and understand.
But there is more. Mariah is going to reach out to Tessa. She wants to know what is going on with her, how things are going, and what is up. It's been an interesting situation, and that's been the thing around here. There's been a lot happening on everyone's plate, and that's been one of those things that doesn't seem to work for everyone. But at the moment, she's going to reach out and hope that Tessa is there to respond. We don't know if she will respond to Mariah at this point, but there is something going on here. We can feel it. We know that things are going to work out for her sometime soon, but we don't know what else is happening.
Stay tuned for more Young and the Restless and be sure to check out TVOvermind daily for the latest Young and the Restless spoilers, news, and updates.