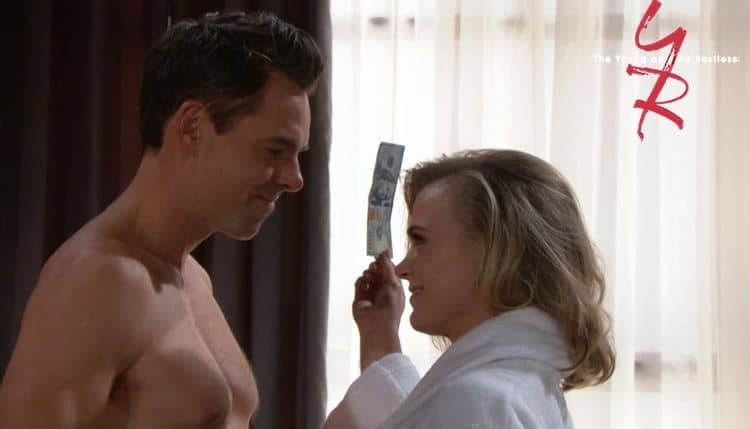 Young and the Restless fans are not surprised that things are not happening well for Nick. He's having a big night. It's all about him and his life and what he wants, and celebrating all the things he feels are good in his life. He's got big plans, and everything is suddenly working out for him in every manner. Except, it's not. Things did not go well for him, and that's not a big surprise to anyone who knows him and his family and the people who are always looking to take them down and make them miserable. They have a long history of being very crazy with one another, and they have a long history of being unhappy with one another – and it all became very obvious as we watched his night fall totally apart last night. It was something else entirely.
We also saw that Rey was very open about finally showing who he is and what he wants to accomplish, and we feel that only makes him more dangerous. But our favorite part was watching the passion between Summer and Kyle. They are both young adults who can make their own decisions, but they are also two of the most immature, most ridiculous, most childish adults we've ever seen. Rather than work for what they have and what they want, they want to lie, scheme, and get what they want through dishonesty – and he's not all that concerned that the woman he wants to be with his currently working hard to seduce her mother's boyfriend to get what she wants. This is not a big dealbreaker for him, and that's beyond confusing to us simply because it's gross. It's not cute, and we think that this speaks to the fact that these two might be perfect together.
What's Happening on Young and the Restless
Nick might be in some trouble this week, but remember this moment? 😂 We're making #MugshotMonday a thing! Whose picture do you want to see next? #YR pic.twitter.com/4gH9MZNB9e

— Young and Restless (@YandR_CBS) September 10, 2018
We didn't think that we were over Man Crush Monday, but there is a new thing that the people in Genoa City are up to, and we think it might just catch on. It's called Mugshot Monday, and we are all about seeing you post yours. Kidding. We hope. But, we do think that Nick gets to go down in history for this fab mugshot. What do you think?
What's Next on Young and the Restless
Nick's night to shine takes a shocking twist today on #YR. pic.twitter.com/aam1fazSIF

— Young and Restless (@YandR_CBS) September 11, 2018
Victor is always looking ahead. He's a man who likes to see what the future has in store for him, and he's a man who likes to see what he can get out of life when it's happening to him. He's not someone who likes to look back on the past unless it's to remember that he hates someone or wants to get revenge on them, of course. And he's about to have a very unpleasant encounter with the past. Something is going to go down that will only make him more miserable than he's been in a long time, and we have a feeling that this is going to cause some serious issues with some people. He's been able to get his situation under control a bit, but he's about to have someone come at him with a big problem – and he will need to make this stop.
We will also see Victoria is cornered. She's in that situation a lot for someone who feels that this is not the place in which she wants to be in life. She's a mess, and she's going to remind all of us of that as she continues to grow. She's going to have bigger problems. But we have fun news in that Lauren Woodland is making her return, too. She'll be back to play the role of Brittany, and we cannot wait to see what writers have in store for her and for her success as the world continues to move on for her in a positive manner.
Stay tuned for more Young and the Restless and be sure to check out TVOvermind daily for the latest Young and the Restless spoilers, news, and updates.