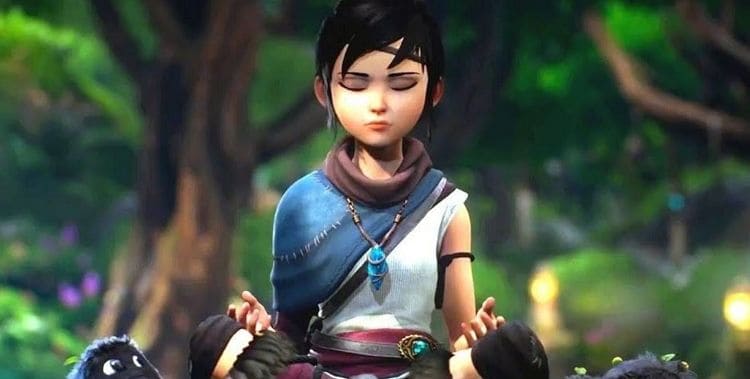 It's been an amazing year for gaming and we're barely halfway through. With so many incredible games releasing it's hard to pinpoint which ones to keep an eye so we're here to help by detailing our top ten games releasing in the second half of the year. In this two-part series, we'll go over which games we are most excited about and can't wait to get our hands on.
Kena: Bridge of Spirits
Kena: Bridge of Spirits is coming to PS4 and PS5 later this year. As stated by Ember Lab, "Kena: Bridge of Spirits is a story-driven action-adventure set in a charming world rich with exploration and fast-paced combat. Players find and grow a team of tiny spirit companions called the Rot, enhancing their abilities and creating new ways to manipulate the environment.". We're excited to experience the world of Kena and the unique gameplay capabilities that it brings to the Playstation family. In Kena: Bridge of Spirits you take control of a unique species known as Rot. Rot maintains a balance in this world by rotting and decomposing dead elements. We're excited to see how these elements play out and if Ember Lab can add yet another iconic character to the growing Playstation roster.
Release Date: September 24th, 2021
Platforms: PS4 & PS5
Deathloop
Deathloop, the newest game from Arkane, is coming later this year to PlayStation 5 and Windows. Arkane is the studio responsible for Dishonored and Prey. Two games that have been critically acclaimed for their ingenuity and art style. Deathloop looks to follow that trend and more. It lives up to its name, Deathloop, by basically putting you in a sort of time loop. Your objective is to kill your target, but if for some reason you're killed then you're returned to the very beginning of your mission. Putting you in a literal death loop until you successfully assassinate your target. There's a catch though. Assasin's are after you too. We're excited to see how this plays out and how Arkane implements its multiplayer component.
Release Date: September 14th, 2021
Platforms: PC & PS5
Back 4 Blood
Back 4 Blood is the spiritual successor to Left 4 Dead. You read that right. It's being developed by Turtle Rock Studios, the studio behind Left 4 Dead and Evolve. So they're sure to bring their usual quick-witted characters and fun co-op gameplay. We're hoping it keeps the same charm and replayability as well. It's what truly made Left 4 Dead special and what led to many sleepless nights killing zombies and navigating its immersive world. With how much the gaming industry has changed since Left 4 Dead, we're eager to see what Turtle Rock Studios can do with the extra power of the new generations. According to Turtle Rock Studios, "Back 4 Blood is a first-person, co-op zombie shooter featuring thrilling, dynamic, moment-to-moment gameplay and highly variable, customizable action to keep players coming back for more." We're excited to see just what they mean when the game releases later this year.
Release Date: October 12, 2021
Platforms: PS4, PS5, Xbox Series X/S, Xbox One, & PC.
Guardians of the Galaxy
Guardians of the Galaxy is being developed by Eidos Montreal and set for an October release. Eidos Montreal is the studio behind Marvel's Avengers and the Deus Ex series. Marvel's Avengers was met with mixed reviews. Mostly because of its game as a service model that has constantly split up gaming communities. Hopefully with their approach to Guardian's of the Galaxy they improve upon this and deliver a game that caters to all the fans of the series. It is a third-person single-player game that will revolve around the beloved Guardian, Star-Lord. The story takes place during the aftermath of a universal war as many different factions emerge and try to gain monetary benefit from the ashes. Unfortunately, the Guardian's greed leads them to a series of catastrophic events that threaten the universe.
Release Date: October 26, 2021
Platforms: PC, Nintendo Switch, PS4, PS5, Xbox One, & Xbox Series X/S
Psychonauts 2
Psychonauts 2 is finally being released after years of anticipation from fans of the series. Double Fine looks to build upon the success of the original. On their site, the synopsis reads as follows, "Razputin Aquato, trained acrobat and powerful young psychic, has realized his life long dream of joining the international psychic espionage organization known as the Psychonauts!" Many still have fond memories of the original for its unique art style and storytelling capabilities. So it's no surprise that when the sequel was announced it took the gaming scene by storm. Due to COVID and other complications, it has seen a few delays but thankfully now it's finally set to release. You can expect mind-bending gameplay and puzzles when this releases later this year.
Release Date: August 25th, 2021
Platforms: PlayStation 4, PC, Xbox Series X/S,  Xbox One