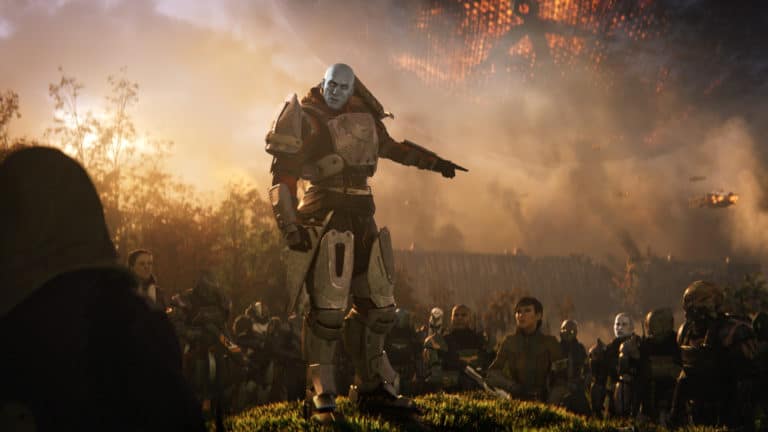 This year has been pretty nifty, as far as video games are concerned. Several high profile, and high quality, releases in Q1 and Q2, but after that there's a small lull in big-shot launches. Thankfully this is going to change in September, because we're getting several titles which are certainly worth your attention and time. Without prolonging the inevitable, let's take a look at the top ten games which may visit our libraries this September.
Destiny 2 (September 6)
After a long wait comes the story mode for Bungie's 2014 shooter Destiny, in some circles called "Destiny 2". Jokes aside, Destiny 2 is looking pretty sweet, and for a change PC players will actually get to play it too!  What about the story, then? Unlike the first game, which made you grasp for snippets of lore and story in a companion website, D2 will put it squarely in the game. And from what we know so far, the story's even going to be somewhat interesting.
The Traveler has been captured, and is no longer able to provide Light to Guardians. Which is a bad thing, because the Earth and its general vicinity is under assault by the Cabal armies. Deprived of their power, the Vanguard, three paragons of their respective classes, flee to outer regions of the Solar System. Guess who's job it is to bring them back.
In addition to introducing a story, Destiny 2 also tweaks the gameplay, of course. Most notably the loadouts will work differently, with slots dedicated to damage types, not weapon classes. There are also new specializations, each with its own unique super, of course. And some of them, like the Dawnblade spec for Warlock, look awe-inspiring.
Destiny hits PlayStation 4 and Xbox One on September 6, 2017, and on PC October 24, 2017.
Pro Evolution Soccer 2018 (September 12)
Speaking of grand sport titles, Pro Evolution Soccer also get its annual release, right on schedule. The kind of improvements it brings is in line with the ones of FIFA, because at this point there is little left to change about football game formula. PES 2018 boasts about better contextual controls, helping you actually benefit from improved animations in a meaningful way.
There is also going to be a three-player local/online co-op mode, if this is the kind of thing you like. Depending on your possibilities, you'll be able to play with one friend locally and one online, or with both online. Sadly, no support for having both friends over has been announced so far.
Curiously, PES 2018 will let you recruit Usain Bolt and Diego Maradona in his prime for your team. Because why not? We'll start scoring goals on September 12, 2017.
Divinity: Original Sin 2 (September 14)
This is going to be a good one. After a smashing success of the first Original Sin it was simply a matter of time before Larian Studios decided to make a follow-up using the same formula. Let's note here, that following a formula is not something Larian usually does, even though all their games are set in the same universe. What should we expect from D:OS2? Spectacular interactivity of the previous game turned up to eleven, for instance. There will be more elemental interactions, for instance. Magic is broadened by the introduction of summoning and polymorphing systems, too.
Character creation got a significant lift relative to the previous game as well. Now you'll be able to play as a Human, Dwarf, Elf, Lizard, or even Undead. If creating your own unique character doesn't interest you, there is a bunch of customizable origins with their own storylines to pick from.
Divinity: Original Sin 2 arrives, finally, on September 14, 2017. Will you take this chance to visit Rivellon once again?
Dishonored: Death of the Outsider (September 15)
Dishonored 2 is a pretty amazing game. Especially playing as Emily, the kid we spent so much time rescuing in the first game, is exhilarating due to her creepy powers. The point is: Dishonored 2 is getting a standalone expansion and it's going to bring back some old friends.
If you've played the DLC campaigns for the first Dishonored, you might be very familiar with Daud and Billy Lurk. And it seems that both of them have a bone to pick with the black-eyed deity, as hinted by both the title and the neat trailer created by Platige Image.
We don't yet have any specifics regarding gameplay, but we won't need to wait for long anyway. The Outsider will have some problems coming his way on September 15, 2017.
Marvel vs. Capcom: Infinite (September 19)
The announcement of Marvel vs. Capcom: Infinite was a very pleasant surprise. The franchise gathered some very loyal fanbase, and crossing over two popular universes is always pretty fun to experience. Although this edition won't feature mutants, because of shenanigans, it'll have a curious gimmick in the form of Infinity Stones. They will affect gameplay by adding two special abilities to your arsenal – one available at all times, another requiring you to build up a special meter, as is usual for fighting games. Oddly enough the 3v3 tag-team model has been dropped in favor of a more familiar 2v2, which we've seen in many fighting titles.
Which character are we going to see? Dante certainly makes his comeback, as does Arthur and Mega Man. On Marvel side Captain Marvel, Iron Man and even Rocket Raccoon will be ready to fight, and that's just scratching the surface. Oh, and there will be a story mode, too, revolving around beating Ultron and Sigma, who fused together for maximum power.
We'll get to see what comes of it on September 19, 2017.
NBA2K18 (September 19)
2K Sports is set to continue their basketball simulator for another year, as proven by the announcement of NBA2K18. One could argue that sport games hardly need announcing anymore, and yet here we are. Presumably NBA2K18's biggest problem will be competing against FIFA and PES, since it launches between both titles. Launching between bigger titles didn't work well for Titanfall 2 last year, but maybe NBA will manage. Who knows. We'll slam dunk on September 19, 2017.
Project CARS 2 (September 22)
Project CARS was one of many examples of game crowdfunding going very, very right. It was a pretty beautiful game, had a solid physics model, an impressive number of cars, it was cool all around. As a result the Slightly Mad Studios had no other logical choice but to work on a sequel, and lo and behold, we're getting one this year.
Project CARS 2 is apparently going to be bigger than its predecessor, which is always a commendable goal. Reportedly it's going to have 182 cars by 38 different manufacturers, which is an impressive number, beaten probably only by Forza games. There's also going to be 121 layouts of 46 tracks, which is also pretty impressive for a game that's partially community-funded, like the predecessor.
There will also be features less central to the experience, like the improved day/night and weather systems. It's also going to support VR, 12K resolutions, and triple screens. A heaven for owners of monster PCs? Probably. We'll start zooming around the corners in September 22, 2017.
Total War: Warhammer II (September 28)
A Lizardman, a Dark Elf, and a High Elf walk into a bar. A Skaven skitters underneath and avoids it entirely. Of course the Skaven are a myth and no such things actually exist. Aside, after a smashing success of its predecessor, Total War: Warhammer II will soon come to our PCs. For those who may not know the first thing about it, a brief summary. Much like other Total War titles, the gameplay is twofold. On a global level you control the movements of armies and direct the development of technologies in your cities. When the aforementioned armies clash, you move into a tactical level, where you control individual units in a more straightforward RTS manner.
The game also changes the roster. Races from the previous game are absent, and the conflict (revolving around the Great Vortex) will be between the four races referenced in the terrible joke before. Of course the Skaven have only been teased, but their reveal is going to be the least surprising reveal in a while. The war for the Vortex begins on September 28, 2017.
Cuphead (September 29)
If Cuphead was to be summarized in a sentence it would be "2D run'n'gun in the style of old cartoons".And by "old cartoons" we don't mean classic Looney Tunes bits, even though they are pretty old now. We mean the ones that used to be made in the 1920s and 1930s. They were so casually weird that it was sort of impressive, and to this day they remain very pleasant to look at.
Cuphead channels that weirdness without hesitation. Its protagonists are two…hard to say. If old-timey Mickey Mouse had a cup for head, he'd look something like them, certainly. Their enemies are going to be flowers with faces, and other such nonsense, with plenty of white gloves around.
Gameplay-wise, it will be a wild one, too. Avoiding projectiles, shooting enemies with your fingers, reviving your co-op partner by grabbing onto their escaping ghost, you know, the usual fare. Notably, it was postponed for a long time, for a while had no launch date, so getting news of it launching this year, and soon, is fortuitous indeed.
We'll start this acid trip on September 29, 2017.
FIFA 18 (September 29)
The year would feel empty without a new FIFA. Annually launched football simulator has become a staple of gaming over the past twenty-something years. It was then of little surprise to see FIFA announcement for 2017. This year's edition boasts a slew of improvement across the board. New animations, for instance, allow for smoother ball control and add to the realism. Whether FIFA 18 could be mistaken for a live broadcast or not remains to be seen, but rarely do sport games look as realistic.
The story mode from FIFA 17 comes back to, as The Journey: Hunter Returns. It will continue the story of the aspiring footballer from the previous FIFA, taking his career past Premier League out to the world. With a global appeal of the young player come fashion statements and unique style, so we'll be able to customize Alex Hunter's appearance, down to tattoos and haircut.
FIFA 18 will launch on September 29, 2017 for a whole bunch of platforms.
Summary
So there you have it. September is going to be a pretty intense month for gaming, taking us all over the genre spectrum, too. From old-timey run'n'gun, through action game, to sport games, RPG, and ending with a grand-scale strategy. Something for everyone! Did your awaited September game make the list? Sound off in the comments.
Save
Save