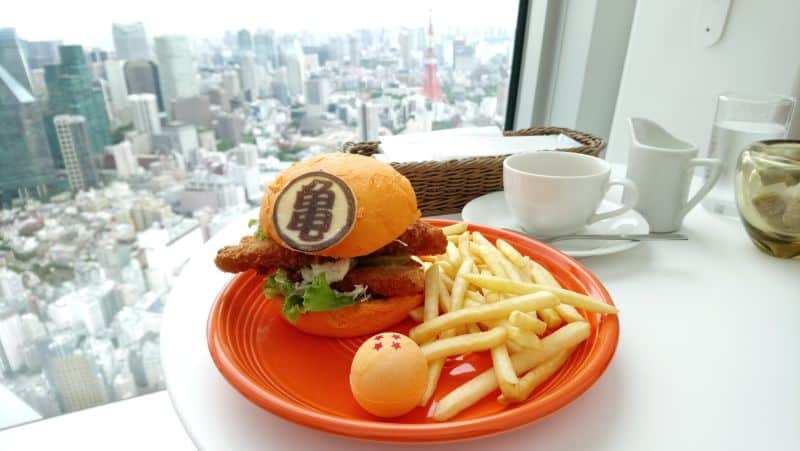 When a media franchise becomes popular, interested individuals are sure to be able to find a wide range of products bearing its name and logos. Sometimes, such products can be as simple as something printed on a T-shirt, which is nonetheless capable of letting fans of the franchise show their fandom. Other times, such products can be much more complicated, as shown by the books, the comics, and the video games that can expand a media franchise beyond what has been revealed through its initial offerings. With that said, there are times when products related to a particular media franchise can seem outright bizarre, with an excellent example being the anime-themed food that is so popular in Japan.
For an example, look no further than the Dragon Ball burgers that can be found at J-World, which is a theme park that specializes in catering to fans of Dragon Ball and other media franchises associated with JUMP magazine. Said menu item is a chicken sandwich which bears the kanji for "Turtle" on the bun, which is a clear reference to Master Roshi's Turtle School that had students such as Goku, Krillin, and Yamcha. Meanwhile, there are other Dragon Ball-themed menu items that can be had at the location as well, meaning that interested individuals can have a nice meal while drawing amusement from the sight of their favorite anime translated to food form. Overall, the menu items at J-World are not particularly unusual in Japan when it comes to their choice of them, but they are nonetheless entertaining for not just Dragon Ball fans but also fans of similar anime.
How Has the Dragon Ball Franchise Been Doing in Recent Times?
With that said, while Dragon Ball has remained popular in Japan for a long, long time, it is interesting to wonder whether its recent popularity means that Dragon Ball fans can expect more of these products to become available for purchase for the foreseeable future. For those who are curious, the Dragon Ball franchise never came to a stop, as shown by the fact that the original manga was reworked and then re-released on a number of separate occasions. Furthermore, there have been a number of official spin-offs for the manga, with the latest one being as recent as 2016. However, it is clear that Dragon Ball is seeing something of a renaissance at the moment because of the new material that is being produced.
In 2009, the Dragon Ball franchise celebrated the 20th anniversary of Dragon Ball Z with an announcement that Toei Animation was going to rework and re-release the original series as Dragon Ball Z Kai. The result was an enthusiastic response, which could explain why the redone series was followed by two new movies in 2013 and 2015, which were followed by a new series called Dragon Ball Super that continues the narrative after the Majin Boo saga. Said series is paired with a manga narrating the same events, which have done much to restore the Dragon Ball franchise to its full popularity. Unsurprisingly, this has resulted in the release of a number of Dragon Ball Z video games, which have increased the media franchise's momentum by being surprisingly not bad. Combined, it seems safe to say that the Dragon Ball franchise as a whole is on an upswing, meaning that it will be interesting to see what other products come out of the minds of Japanese marketing teams in the not so distant future besides Dragon Ball burgers and other Dragon Ball-themed menu items.