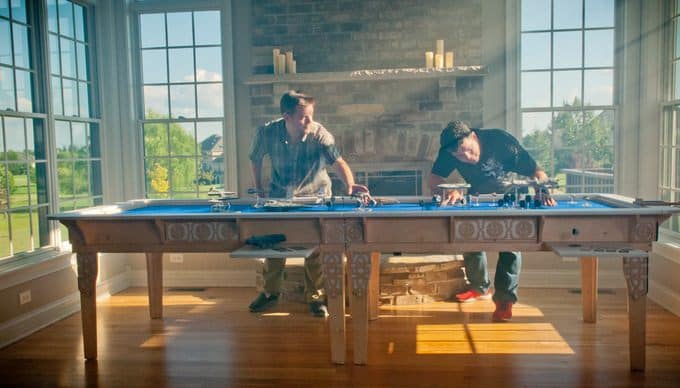 The gaming table to rule them all is most definitely for those that are serious about their gaming experience. Not only is it kind of spendy but it's also a bit complicated in that it seeks to simplify and amplify your gaming experience in a way that you might not have thought possible. It has options that are out of control and extremely helpful to gamers and is accessible either standing or sitting. The designs are simply out of this world and the table itself is so versatile that it can be used as a gaming table or a regular table, which means it can be used for a wide variety of purposes.
Anyone recall when gaming was simpler and didn't require these type of things? All you needed was a sturdy table, some space, and a few friends to really get into it. Of course back then the idea of having an actual gaming table hadn't really been thought up on this scale yet, so it's simple to assume that if this had been around back then that a lot of people would have wanted them.
Despite the coolness of the product however it needs to be observed that since they use only the finest materials in each table these items do have a limited supply. Since they use Birch to make the tables it has to be understood that a finite number of them are going to be made and will as a rule cost more and more as you add on options and customize your own table. In short it can get very expensive very quickly. And then there's the matter of how much room you actually have.
While it might not be a fair thing to say these things really seem geared towards those that game on a very expensive budget. If you've ever been into role-playing games then you know that each and every part of the game is exceedingly expensive. From the books to the maps to the quest modules to the miniatures a person can spend hundreds of dollars, if not more, in a very short period of time. Given that this table would be the perfect addition to any serious gamer's arsenal it can be surmised that a person would be spending in the thousands just for the game.
To some that's not much of a sacrifice, but then to some that kind of money seems to be a paltry amount. Having the kind of space needed for this type of table usually means that you have a home that is spacious enough to afford a person the chance to stretch out and splurge a little when it comes to something they want. The added bonus that it can be used as a regular table is just a bonus, but the space requirements for the table still indicate that it's an item marketed mostly to those with greater financial means.
It's an awesome table and would definitely make a great addition to anyone's game, but the downsides seem to balance out the upsides at the moment.
Save