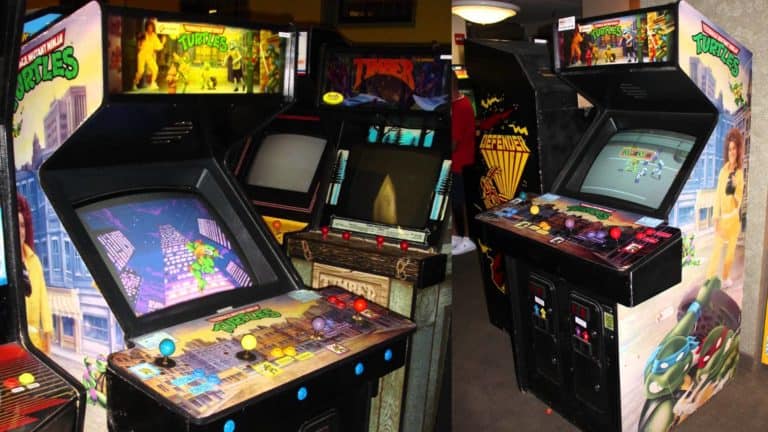 If you were around in the 1990s, then it is likely that you will remember Konami's 'Teenage Mutant Ninja Turtle' arcade games. Fans of the turtles could enjoy four-player fun with both the original game and with the second game released 'Turtles in Time'. Other than re-releasing them for the Xbox 360 in 2007, Konami hadn't re-released these arcade games on a wider scale.
However, the quartet is set to make a gaming return as it has been announced that the Teenage Mutant Ninja Turtles are coming back to arcades. So, you can finally battle with three of your friends for some turtle combat.
Arcade Heroes has revealed that Raw Thrills will launch the new four-player arcade game at the IAAPA event in 2017 before distributing the new 'Teenage Mutant Ninja Turtle Game' in 2018. Raw Thrills are the arcade developers who are responsible for games such as 'H2Overdrive' and 'Batman: The Arcade Game'.
In the most part, the new games are very similar to the originals as each player has a joystick and buttons for attacking. The biggest difference in the new games is that there are three buttons rather than two and this could be an indication that the third button allows players to make a special move.
Although it is being advertised as a brand new game, it is clearly based on the series of the same name that is aired on Nickelodeon. There is a redemption option for those who want to earn tickets but, unlike other redemption games, this is definitely a 'beat-em-up' style game.
Raw Thrills have described the new 'Teenage Mutant Ninja Turtle' game as a re-imagining of the brawler concept and said that there is more environmental interaction, more manoeuvres, and amazing special attacks using Turtle Power. Also, the voice in the game are provided by the entire cast and this includes Seth Green. It is also their opinion that the game will look spectacular on larger television screens.
Also, the new game boasts many gameplay additions. These include environmental attacks, team-up attacks and many more exciting new features. This will all add to the overall player experience and make it a much more enjoyable game to play with your friends.
As yet, there has been no official date for a release of the new game announced. However, if it is already at the stage where it is debuting at games conventions, then it is a fairly safe bet that fans of arcade games such as this won't have too much longer to wait.
It is not just the gaming industry that is benefiting from the revival of the Teenage Mutant Ninja Turtles. The quartet were huge in the 1990s and then they seemed to disappear into nowhere. In recent years, there has been such a big comeback that there is a whole franchise devoted to the famous turtles. Not only are there movies, television series, and arcade games, there is also a wide range of merchandise available for fans of these lovable cartoon figures.