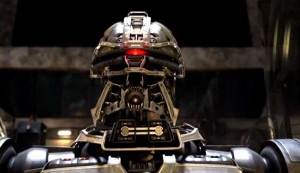 Odds are unless you were at Comic-Con you haven't seen any video from the upcoming season of Caprica – but that's okay, Syfy is making up for lost time, following the announcement that Caprica will be returning October first instead of early next year, with a a group of Caprica promos that I would have to call … stunning.
Color me a sucker for good editing, but these video clips – which includes the infamous Caprica 1.5 promo shown at Comic-Con – really got my pulse pumping, and I'm one of those sticks in the mud that decried the first half of Caprica season one as dramatic to the extreme of hyperbole. Caprica, imho, really pumps when it deals with the nebulous nature of techno ethics, consciousness, and religious freedom. Plots centered around those areas seemed to speak to the existential wanderer in us all; a truly primal effect that Joseph Campbell probably would been proud of. Looks like Caprica 1.5 is going to add the missing element: delving into an overarching mythology that actually connects with the Battlestar Galactica mythos that we know.
The highly anticipated return of Syfy's critically-acclaimed series Caprica will come even sooner than anticipated. The second half of season one will now premiere on Tuesday, October 5, 2010 at 10:00PM ET/PT, the channel announced today. Fans will no longer have to wait until January to watch the series exciting kick-off, as the citizens of Caprica deal with the chaotic aftermath of the mid-season finale's harrowing events.

The second half of season one will transport us from stunningly vivid, twisted Virtual realities to the fascinating outer worlds of the 12 Colonies. Along the way, revolutionary tensions rise, family power shifts and our characters grapple with the physical and emotional consequences of their questionable decisions. As the season races towards its stunning conclusion, each episode lays the groundwork for the inevitable (and brutal) clash between the new Cylon race and its human creators.