Tonight (3.3.13) the History Channel launches its first foray into original scripted drama with the beautiful 'n brutal series, Vikings. Based on actual historic figures, Vikings tells the epic story of Ragnar Lothbrok who, using new sailing techniques, defied convention and direct orders to venture westward toward the legendary kingdoms of England.
Last week I spoke with gorgeous actress Katheryn Winnick (Bones, A Glimpse Inside the Mind of Charles Swan III) during a conference-call in which she talked about women's roles in Viking society and her particular character in the remarkable series. "I play Lagertha who is a young mother and fierce shieldmaiden. She's based on a real person, a real Viking. Lagertha's a loving wife who has a true partnership and equal relationship with her husband Ragnar. When I started to do my research on her I fell in love with her. She's such a strong, fierce warrior and definitely a forward thinking woman for that time." For those unfamiliar with what a shieldmaiden is? "A shieldmaiden is a female warrior in the Viking era. Her role was to fight alongside the men and during a shield wall her specific role was to plug up the holes made as Vikings fell in battle."
When asked which aspect of her role she enjoyed most Katheryn shared, "My favorite part was learning about the Vikings, who they were and the history of it. That's what's so great about this being a historical drama, you really get an intimate look at the Vikings, their family life and how they lived their day-to-day life. It was interesting to learn about the mythology and the fact that they were Pagans who believed in many Gods. They believed the Gods walked among them. It was really such a gift to be able to immerse myself in what Lagertha would've been and how she lived her life and how she spoke and the accents and the language. For me it was a real treat." Winnick began working on Lagertha's accent even before winning the role. "Yes, I was really nervous about the accent since I've never dealt with a Scandinavian accent before so I worked with a dialect coach to try and get something down on tape. When I first got the script Michael Hirst, who created the show – he also did The Tudors and Elizabeth, was overseas and wasn't taking any meetings so I had to put myself on tape which I did in my living room. I really went to great lengths to try to do everything I could to get this role. I actually rented a costume from a Halloween store to try to really embody what a Viking would wear for my first screen test."
Katheryn is very used to fighting for what she wants and with a martial arts background such as hers it's not surprising she was chosen for this highly physical role. "I'm currently a third degree blackbelt in Tae Kwon Do, a second degree blackbelt in Karate and a licensed bodyguard. I've been looking for a role that would let me actually be that physical but is first and foremost well-written and has many layers as a character. I started training in martial arts when I was seven years old. I earned my first blackbelt at age thirteen. I started my own martial arts school when I was sixteen and by the time I was twenty-one I had three different schools (in Toronto and New York), so I grew up having a very physical background. It helped in figuring out how I could relate to her. I wanted to be able to add in the spirit of combat into who she is as a person, in her day-to-day life, and the fact that she was a warrior. You can see that not only in the battlefield but you can also see it in how she deals with her young children, how she deals with conflict with her husband and how she deals with the community and different struggles to survive. That spirit of combat was really important for me to find in Lagertha because I think that really is the core of who she is." Though her warrior credentials speak for themselves, the Norse combat techniques practiced by Vikings presented an entirely new challenge to Katheryn. "I definitely had to learn a new craft as Tae Kwon Do and Karate are based on using the art of footwork and handwork whereas a shieldmaiden used her shield and her sword as her weapons. That was a new art form that I had to try to master in a short period of time. But it was great to see how they actually fought and how they used what they had with them in terms of limited resources as weapons [as seen in the clip below]. For Lagertha, who grew up fighting, the shieldmaiden art form was probably passed down from her mother and her grandmother through different generations. It was interesting to learn how to use different aspects of the shield not only to defend myself but also to attack. I got a chance to work with a trainer and fight coordinator to try to get it down but it was definitely a different style of fighting that I wasn't used to, it's not like I was able to do spinning roundhouse kicks or spinning back kicks. Instead, I had to learn how to use my sword and shield as an extension of my arms and an extension of me as a warrior, so that was different."
As much as Winnick enjoyed learning about Viking history and the physicality her role afforded her, neither aspect drew her to the series more than knowing who Vikings' creator was. "The major thing that attracted me to this role was the fact that Michael Hirst wrote every episode and the fact that he knows how to write women so well. He wrote Elizabeth [for which Cate Blanchett received an Oscar nomination] too, so I trusted him in getting the right side of who Lagertha was as a person and how women were portrayed in that society. Women of that age were very strong and held equal partnerships with their husbands. They were allowed to own land and divorce their husbands. They were allowed to fight alongside the men on the frontlines and to be warriors – not only young mothers and wives, but true warriors. For me it was important because there's not much information out there about women in the Dark Ages, and I thought it'd be so great to realize that in the Viking era women were celebrated; I found that very empowering. I know I hadn't seen a female role written as authentic and real as this in a very long time, especially for TV. I think it's so important for people to realize that women were very strong and powerful even in the Dark Ages. There's definitely been backwards movement in terms of women's rights, historically, but if you look at their society in that period during the 7th Century women were fierce."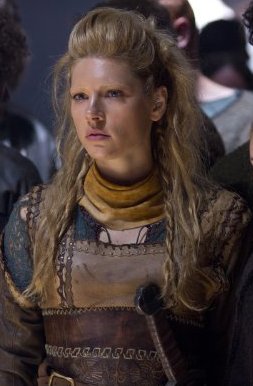 An element of the series I found quite stunning was the beauty of the Irish locations used by the series as its primary backdrop. While presenting challenges for the Canadian/Irish co-production, its international cast was actually helped by the remoteness of their picturesque locales. Katheryn confirms, "The fact that we were shooting in this incredible landscape in locations where there was no cellphone reception or any access to BlackBerries or any internet really gave us a chance to sit still and visualize and really feel like we were real Vikings. We got covered in mud and rain and blood and I think all of that stuff really helped us feel and embody who these people really were. This was definitely not a pretty role, if anything it's very raw and authentic and real. And for me, it was such a treat to be able to not wear makeup and not be glamorized and get dirt underneath my fingernails. The dirtier the better."
Questioned as to what kinds of viewers make up Vikings' target audience she detailed, "I think people who are interested in history, who want adventure, conflict and to see the authentic and raw sides of who Vikings were as a society and to see an intimate look at how they dealt with their day-to-day lives will really love this show. Our show is very epic. It has action, it has violence, it has chemistry and we tried to make everything about it as authentic as possible. It's a family saga at its core and it counters a lot of stereotypes that Vikings were barbaric creatures that just fought and were uncivilized people, in fact they were the opposite. We show how they lived their lives and that they were very sophisticated in that time period."
When I asked Katheryn if she had a favorite moment from the first season, as related to her character, she replied by describing a scene from Episode 2 ("Wrath of the Northmen"). "There's a scene where Ragnar tells me I can't go on a raid because I need to take care of the family and the farm because our farm is under threat. But Lagertha is not one to just sit and be pretty, she definitely has a strong voice. She fights for what she believes in and won't stop at anything to get what she wants, so she beats him up a bit. She attacks him with her shield. They have this lovers' quarrel and actually start fighting between kisses and I just think that specific scene shows their chemistry, the flirtiness, but also who they are and the fact that they're equal partners." Staying on the subject of Ragnar (a.k.a. series lead Travis Fimmel), I ended our time together with an inquiry as to how she found the experience of working with her co-star and onscreen husband? "Travis is such an amazing actor. And he's a prankster, that's for sure. He would always test all the other cast members, like right before your close-up he would whisper something in your ear or pinch you or something and you'd have to keep a straight face. There was one time I remember where one of the other Vikings cast members, they would all always pull pranks on each other, and all of a sudden we heard screaming and we're like, "What's going on!?!" Travis had put a rooster in someone's car surrounded by hay and this poor guy had to clean it all up. He definitely kept everybody on their toes and kept it a lot of fun." Winnick added in closing, "I also think about how hard he worked and how his preparation really inspired everybody else to work hard as well. He was great to work with. Obviously it wasn't very hard to fall in love with him. He's such an amazing person and also very good looking. I think it's important to have and show that chemistry between Lagertha and Ragnar and hopefully you'll see how evident it is. It's definitely a love match."
Witness Ragnar & Lagertha's chemistry for yourself tonight @10/9c on History as Vikings premieres the first of nine gripping Season One episodes that are well worth your attention. I got to see rough cuts of the first five episodes and found myself instantly addicted. If all scripted series from the History Channel maintain this level of quality, I hope they make many more.
http://youtu.be/sjvekELvlJ0
http://youtu.be/grXZIqVBBf0