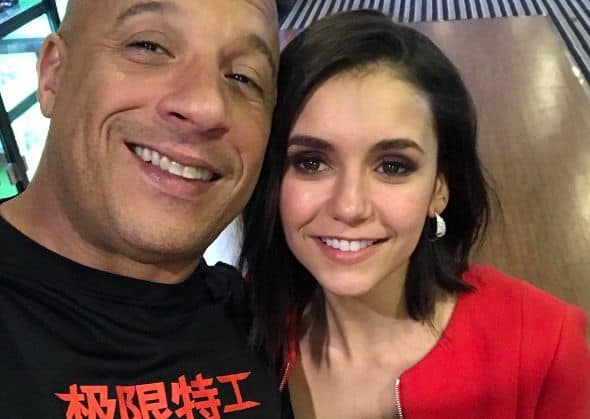 As we mentioned yesterday in an article called "xXx The Return of Xander has found new life in China." the movie debuted in China to incredible success.  In its first weekend at the box office in China the movie has pulled in over $20 million which is half of its entire U.S. haul since the movie was released on Jan 20th.    The star of the movie, Vin Diesel, has had nothing but nice things to say about another famous actress in the movie, Vampire Diaries star Nina Dobrev.
The actress stepped out for a press conference and fan screening for the film on Thursday (February 9) in Beijing, China, and another midnight screening on Friday. She was joined by her co-stars Vin Diesel, Deepika Padukone, Donnie Yen, Kris Wu, and director D.J. Caruso. Vin has nothing but love and respect for Nina, as he recently shared on Instagram:
@ninadobrev has traveled the world promoting xXx The Return of Xander. She is so good in the movie, she killed it on this Global Domination tour… but the best thing about her is her loving spirit. You can't help but love her. Thank you Nina for being a Baller on and off screen. Looking forward to the next one.

While the movie didn't fare well in the United States it looks like the cast is having a blast in China.  Could a third installment be on the horizon?  If this success continues, absolutely.