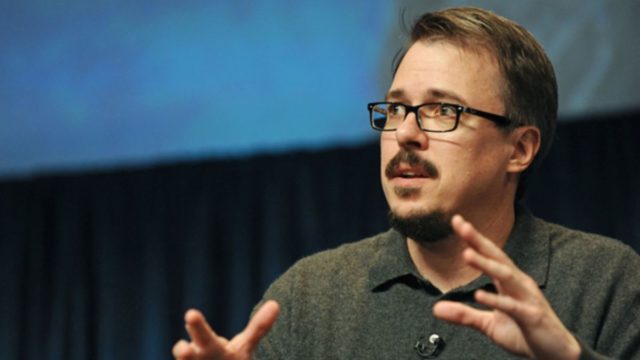 If not for a single image put into his head Vince Gilligan might have indeed become a Walmart greeter after becoming so disillusioned with Hollywood. If you don't know who Vince Gilligan is then you probably don't watch a lot of TV. He's the guy that made Breaking Bad, one of the absolute best shows ever made for TV, and the current contender Better Call Saul, into what they are. And to think, it came off of one idea.
He'd been growing more and more tired of the Hollywood scene after his run with the X-Files and then it's supposedly meteoric rise to the big screen. After that he did Hancock and was really starting to get tired of the entire thing. You couldn't really blame him but the one thing that you could say is that Hollywood's success is like a tide that continues to roll in and out, producing great hits one year and giving nothing but garbage the next. Gilligan realizes this no doubt but he got tired of the necessary delays, the over-indulgent writing, and the scripts that couldn't challenge a four-year old.
On that point we can't blame him. There's nothing more frustrating at the theater then plunking down one's hard earned money for what's supposed to be an epic film and finding out it's something dug up from the bottom of the trash can. The sticky, cloying scent of those moldy old movie titles is something that Gilligan despises and as a result he was thinking, jokingly, of getting out when he and his friend began talking.
Then his buddy mentioned something about opening a meth lab in the back of an RV. Granted he didn't do that, but he did bring it to life by casting someone else that would do it. That's how Breaking Bad came to be. And of course, Better Call Saul came long because of Breaking Bad.
That's why Vince Gilligan is considered to be the GOAT of storytelling at this time, because of his innovation and his desire to make the everyman the star at times. Walter White wasn't anyone special, he was a chemistry teacher that got about as much respect as a coat rack aside from what he got from his family. He wasn't a standout guy, he didn't try to be anything other than a good father and husband, and for all intents and purposes he would have passed away as a nobody. But that wasn't Gilligan's vision.
The meth lab in the back of the RV was only the beginning of the story is the fun part. That was actually a big part of the opening of the initial episode, and it left a lot more questions to be answered which was great. Gilligan essentially plunks you right down in the middle of the story and then has his writers work around it without giving away everything all at once. It's a style that a lot of people like since it's like shining a light on bits and pieces of the story without revealing too much. Others want the story to be more action, less drama, but Gilligan balances out his stories just fine.
The only thing I can say is that as a director he's great.
Save