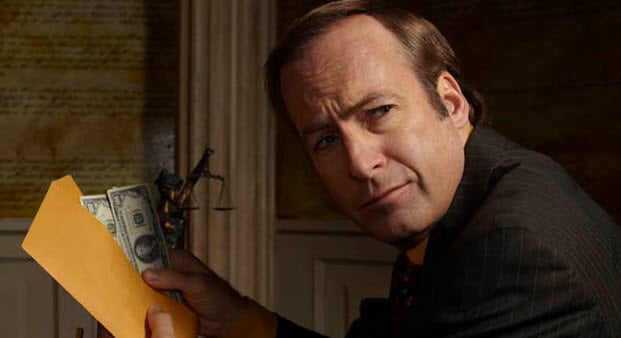 I think we're all hoping that Better Call Saul is going to be as amazing as it sounds inside all our own heads, now that Breaking Bad has taken its final bow. The show is looking to emulate the same hour long format as its predecessor, but do a 75/25 split of comedy vs. drama, rather than the other way around which was the format for BB.
Vince Gilligan recently talked a little bit about the project with Rolling Stone. Not a ton of details, but fans will likely be interested in any case.
"We're both one-hour drama guys," Gilligan says, "so we figured, 'Why not shoot Saul in the same way? Let's shoot it in Albuquerque; let's get as much of the crew back together as possible, and let's do it the way we did it before so that it will be of a piece with that pre-existing fictional universe that we had so much fun creating."
It also seems they've just found Saul's "motivation" as it were. After all, Walter White needed his money for his family, what does Saul need? Something that will make the show more than just a "goofy case of the week" procedural.
"We've had to find the ongoing itch that Saul needs to scratch, so to speak, or else we wouldn't have much of a show."
What do you imagine the itch is? Saul is always about saving his own hide, so I imagine he gets himself in trouble with some criminals that he needs to get out of in a hurry. Sounds pretty general, but I think it's a likely framework for the show to be based around. Any better ideas? I'd love to hear them.
Lastly, according to THR, there might be room for a Bryan Cranston or Jesse Pinkman cameo at some point, despite the show being a prequel:
"Personally, I'd have a hard time resisting putting all these guys in for a cameo or two every now and then," Gilligan says.
Yes. Just, yes.