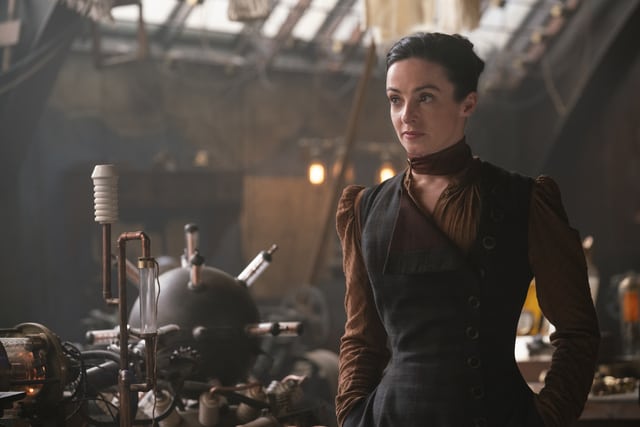 Every once in a while there's a talented actor who seemingly comes out of nowhere, and that's been the case with Viola Prettejohn. The rising star hasn't been in the industry for long, but she's already working towards leaving her mark. She has been announced as a cast member in the upcoming HBO series The Nevers and viewers are excited to see what she can do. Working on such a big project so early in her career will be a true test of Viola's abilities, but she seems more than ready to rise to the occasion. If the show ends up being as popular being are predicting, it could be the perfect step to getting even bigger opportunities in the future. Here are 10 things you didn't know about Viola Prettejohn.
1. She's From The UK
There isn't much information out there on Viola at the moment, but one thing we do know is that she is from the UK she appears to be living in London. Several of the other actors cast in The Nevers are also based in the UK and the show itself is set during the Victorian time period.
2. She Isn't Active On Social Media
Once news broke of Viola's casting in The Nevers, lots of people probably rushed to social media to see what she was all about. They wouldn't have found much, however. She doesn't have any verified accounts although she does have an old personal Facebook profile.
3. She's A Private Person
The fact that there isn't a lot of information floating around about Viola shows that she is more than likely a very private person. It'll be interesting to see if she decides to open up more as she gets further into her career. For now though, she seems to enjoy staying low key and not letting the public know too much about her.
4. She Only Has 3 On Screen Credits
If Viola Prettejohn isn't a name that sounds familiar to you, it's because she's extremely new to the industry. She made her on screen debut in 2018 in an episode of Counterpart. At the moment, she only has a total of three on screen credits and one of them is for The Nevers.
5. She May Be Signed To An Agency
Despite being so early on in her career, it looks like Viola has already caught the attention of a management agency. According to an image posted on geraltderivia.net, Viola is (or maybe, was) represented by a London based agency called Waring and McKenna. After searching the agency's website, I wasn't able to find any mention of Viola which could indicate she is no longer working with them.
6. She Hasn't Done Any Interviews
Doing interviews just comes with the territory of working in the entertainment industry, so it's somewhat surprising that Viola doesn't seem to have done any. Hopefully as The Nevers gets closer to premiering Viola gets the chance to do some interviews so people can get a better feel for who she is.
7. It's Unclear If She Has Formal Training
Since we don't know much about Viola yet, there's no word on whether or not she's been in any sort of drama programs. By the looks of things, however, she hasn't attended — or isn't currently attending — any of the well-known drama schools in the UK or the US.
8. She's A Teenager
Part of the reason why there isn't that much information out there about Viola is because she's a teenager and it looks like she was just leading a fairly 'normal' life before getting her first professional acting opportunity in 2018. We don't know her exact age but she is like around 16/17 years old which likely makes her the youngest cast member on The Nevers.
9. She Enjoys Spending Time Outdoors
Now that Viola has gotten a big break in her acting career, certain things about her life as much different from other people her age. Still, there are probably some 'normal' things that she wants to hang on to .In pictures from her Facebook page, Viola can be seen hanging out with friends and enjoying time outside appreciating the beauty of nature.
10. She Goes To An All Girls' School
Based on Viola's Facebook profile, we know that she attends (or attended) St. Paul's Girls' School in London. According to the school's website, St. Paul's Girls' School was founded in 1904 and is dedicated to providing a high-quality education. The school has a very dedicated drama department that offers things such as dance, improv, theater society, and drama club.