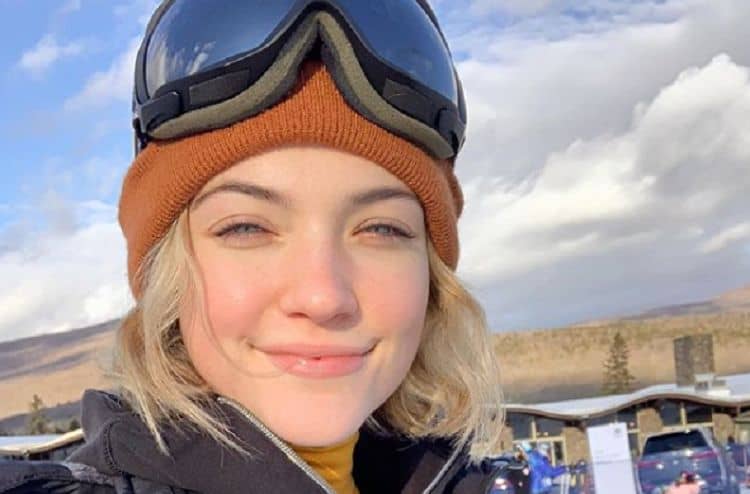 Violett Beane is an American actress who is best known as Cara Bloom in the television series "God Friended Me." She is an interesting personality who has gained a great deal of attention recently and is amassing a large base of fans who want to know everything they can about her. We checked into her personal history and made some great discoveries about her. Here are 10 things that you didn't know about Violett Beane
1. She was born in Florida
Violett Beane was born on May 18, 1996. She is 23 years old. The city of her birth is St. Petersburg, Florida. She lived there with her mother and father until she was the age of ten. The family made the decision to relocate to Austin, Texas. Even though Violett was born in Florida, she considers herself to be a Texan and she refers to Austin as her hometown.
2. She was raised in a strict religion
Beane spent her childhood being raised in a fairly strict and straightlaced religious family. Her mother and father were Quakers and they raised her to observe the tenets of this faith. Every Sunday, the family attended Quaker services. She didn't mention if she still holds some of these beliefs in her heart in an interview on ONTVtoday, but she did reveal that this is the way that she was brought up.
3. She became involved in theater at an early age
Beane developed a strong passion for performing when she was in middle school. This passion grew and intensified as she advanced through high school. She took theater throughout her years at school and she knew that she would become a professional performer in some form. Right after high school, she found an agent in Austin, to help her launch a professional acting career.
4. Violett observes a special diet
When we were looking into Violett Beane's history and career we learned that she follows a special diet. She is a vegan. In support of the vegan lifestyle, she made an interesting donation of her time and efforts to PETA. She posed nude to raise money to support the organization. Violett has some very strong convictions and she follows her heart regardless of what others have to say about it.t
5. She is in a long-term relationship
Most fans wonder about the relationship status of the celebrities they follow. Beane has been in a relationship with her current boyfriend since 2013. The two met in high school and hit it off and they have been an item ever since. Her boyfriend is musician Paul Grant, who goes by "Eyelid Kid."
6. She isn't formally trained
While many actors and actresses attend special programs at college to prepare for an acting career, Violett Beane took a different approach. She bypassed the college and university scene and signed directly with a local talent agency and begin auditioning for parts while she was still a senior in high school.
7. Violett also works with her boyfriend professionally
Violett and Eyelid Kid are involved in a stable and loving relationship, but they also make a great team professionally. In 2016, they worked on a music video project together that was directed by Beane with Grant as the producer and singer. Stars of the video included Grant, Beane, Morgan Taylor and Mackenzie Taylor.
8. She's only been an actress for four years
Violett Beane landed her first acting role in 2015. She was cast in the part of Taylor on the television series "The Leftovers." The role lasted for a year and then she appeared as Claire Wilson in the 2016 documentary "Tower." The same year she was cast as Lindsay in the horror film "Slash." She also made a guest appearance on "Chicago P.D. in 2016.
9. Violett has had a steady stream of gigs since she started acting
Violett Beane is building an impressive acting portfolio. Since she first started her professional acting career in 2015, there hasn't been a gap in jobs. From 2017 through 2018 she appeared in a recurring role as Jesse Wells/Jesse Quick on the television series "The Flash." She also appeared in the series "DC's Legends of Tomorrow," "Blumhouse's Truth or Dare," and in a recurring role as Lily Kendall on "The Resident. In 2019 she appeared as Bethany in the film "Flay." She also appeared in "God Friended Me" as Cara Bloom for a recurrent role that began in 2019 and is still ongoing. Violett Beane has achieved a remarkable degree of success in the short time that she has been a professional actress. It's rare that an actor that has not had any kind of formal training can just step into the scene and land so many different parts. It is obvious that she has a lot of natural talent.
10. Violett Beane is extremely popular on social media
We checked out Violett Beane's social media and learned that she is nothing short of a sensation. She is doing a great job of keeping fans updated on what she's doing with her frequent social media posts. This is something that will keep them coming back to make sure that they don't miss out on anything. So far, she has made 1,087 posts on her Instagram account and there are a lot of amazing photos posted. She currently has an astronomical 506,000 followers on this one account alone. This tells us that she has an incredibly huge fan base and it's only growing with the passage of time. Violett is following 535. This rounds out the ten new things that we learned about Violett Beane. There is much more to know about her but we covered the basics of this new and upcoming star that bears watching. We expect to hear a lot more about her in the months to come.