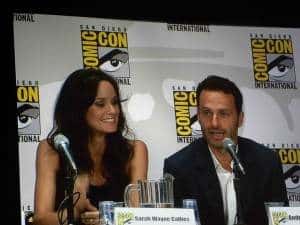 Perhaps one of if not THE most anticipated panel of this year's Comic-Con was for AMC's The Walking Dead.
With lines for Ballroom 20 totaling over 7,000 people, it seems everyone wanted to know what's next for the Walking Dead. Cast members Andrew Lincoln, Sarah Wayne Callies, Jon Bernthal, Laurie Holden, Jeffrey DeMunn, Steven Yeun, Norman Reedus along with executive produce Gale Anne Hurd, creators/writers Frank Darabont and Robert Kirkman and head of special effects Greg Nicotero were on hand to give us all the details.
Before bringing the cast out, Chris Hardwick, moderator of the panel, took some time to speak with the executive producers and creators behind the show.
So how exactly do you sell a show like this to a network like AMC? According to Kirkman, AMC 'had enough vision to try something this crazy'possibly sparked by their search for a show that could be included in their fear fest Halloween block of programming.
While Kirkman says he never really thought the comics could be a TV show because of it's dark zombie apocalyptic themes, Darabont mentioned he immediately thought about it like that.
Obviously though the show wouldn't be what it is without the amazing special effects by Greg and his team. Nicotero always assumed everyone loved zombies and said he has been really determined to follow the content he's given and use what he knows to fine-tune it to each specific zombie.
In fact they even have zombie school in Atlanta. Who wouldn't want to sign up for that? Apparently, Hardwick really wants in as he begged to be made into a zombie so he could be shot in the face.
With the growing enthusiastic and obsessive fan base, Kirkman and co realize there is an increased pressure to tell bigger stories in the upcoming season. With a room full of writers who are familiar with the content now, people are clamoring to be a part of it.
It's at this point in the panel where the EPIC and exclusive Comic-Con season 2 trailer was shown. To describe it in three words it was: Intense, emotional and crazy. As Lincoln's character Rick Grimes says in the trailer 'it's all about slim chances now and a slim chance is better than none.
The cast members of The Walking Dead came out to thunderous applause as they filed into their seats on the panel stage.
Hardwick then went down the panel asking the cast how they got involved in the show among other things. Andrew and Jon both went the traditional route and were blown away upon reading the scripts they received whereas Jeff started with a phone call from Darabont who asked him 'How would you like to come to Atlanta and kill zombies?'
Sarah and Laurie both remarked on the amazing scripts for season 2, which will push their characters even further than before. Sarah even goes so far to call them 'unprecedented'and declares that 8-year-old Carl is going to blow your mind this season.
A funny moment with Steven Yeun happened when he mentioned that his typical day working on the set includes waking up, doing a tick check, going to work, sweating your butt off and then doing another tick check when he gets home. He mentions one of the little blood-sucking bugs once climbed his '˜mountain'if you know what he means and put up a flag on top. Apparently there are a lot of ticks in Atlanta.
There will jump forward in time for the new season as it picks up in overlap with the first season when they are driving away from the CDC.
With the cast being a strong group of cohorts fighting again the zombie apocalypse, what would Kirkman do if there really was one? 'I would jump off a bridge.'Without a doubt, he says he'd kill himself.
Some other interesting tidbits we learned during the panel:
Kirkman would pick Ed O'Neill to play Michon, Tyrese and the governor.
Full house zombies? Hardwick is totally on board and jokingly encouraging the creative team down this route.
Most of the cast try to do as many of the stunts as they can.
Fake blood tastes all right and is made of corn syrup and food coloring but the solution to blacken a zombie's gum is disgusting.
The special effects team has got the standard zombie makeup time down to an hour and a half.
So are you excited for the next season of The Walking Dead? What would you do in a zombie apocalypse? Do you want to attend Zombie school? Let us know in the comments below!
Mark your calendars as The Walking Dead returns to AMC Sunday, October 16th at 9pm!!
[imagebrowser id=1101 template = flipped]