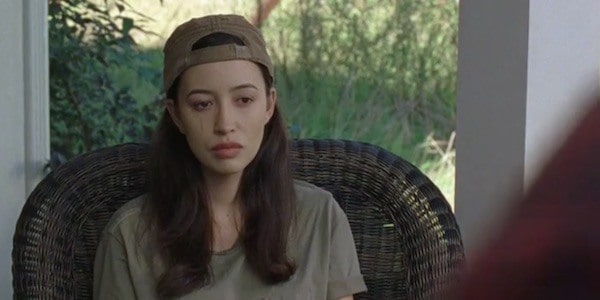 Another week and another new episode of The Walking Dead to keep us cozy on a Sunday evening.   Tonight we're taking back to Alexandria with the main group of survivors after last week's capsule episode at The Sanctuary.   Michonne and Rick appear ready to have another battle for supplies but another character may very well one up them for attention.  Rosita is ready to unleash some serious anger at Tara.  If there's one character it's been fun to watch in season 7 it's gotta be Rosita.
She's by far grown the most and her unwillingness to compromise or submit to Negan after he killed Abraham is awesome.  The teaser for tonight's episode features an extremely tense discussion between Rosita and Tara.   While there's plenty to analyze from this scene, let's go over a few points worth mentioning.
Rosita continues to be hardcore.  There's just no getting around her toughness.   It was already established when she decided to put stitches into her own cheek after a stabbing wound from Arat but it's further established by watching this scene.  This is a woman who has absolutely nothing to lose and she shows it.
The other point worth mentioning?  Weapons.  How are we going to get weapons?  It's amazing how EVERY single episode, there's a central them of "how the hell are we going to get weapons?"  I guess we'll find out more tonight.
Check out the trailer below:
https://www.youtube.com/watch?v=J_E12h7NS4k