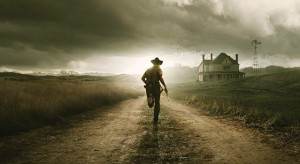 Earlier in the summer, we reported that The Walking Dead season 2 premiere would be titled "Miles Behind Us," as the second volume of trade paperbacks is also titled. That's no longer the case; AMC has changed the title of the premiere instead to be "What Lies Ahead," a much more ominous title. Ominous, yet appropriate, considering that this season will see us moving to a distinctly more rural setting than the city-bound backdrop of season 1.
That title also might indicate a more forward-looking mood of the show. While the season one premiere title, "Days Gone Bye," seemed to indicate a longing for a return to the non-zombie days of the past, with "What Lies Ahead," it looks like we might be seeing a more focused group of survivors.
The second episode of the new season, much like the second episode of the first season, is much shorter on metaphor and much taller on visceral imagery. After all, last year's "Guts" did involve the survivors smearing themselves with chopped up zombie carcasses in order to blend in. This season's second episode, "Bloodletting," has a title that promises some gore. Would it still be The Walking Dead if there wasn't any blood? Of course not.
The Walking Dead premieres its second season on October 16, with the episode "What Lies Ahead" on AMC.