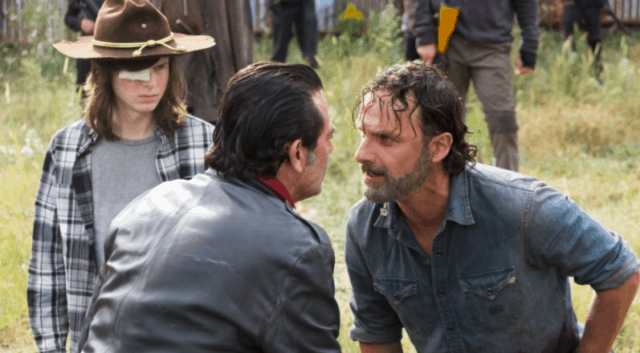 Right now The Walking Dead is one of the few shows that could be in serious immediate limbo if the Writer's Guild of America strikes.  However that hasn't stopped cast members from posting images on social media or from the show itself giving details into season 8 which as of right now we have no clue when would begin.  In an interview with Entertainment Weekly, Scott Gimple sat down and shed some light on season eight of The Walking Dead.
"By virtue of the fact that the narrative has turned into one of pretty intense conflict, Gimple said. "It's going to affect the structure in ways that make it a bit more kinetic, a bit more breakneck – shifting away from entire stories in one episode, and sort of fractured over several episodes, with little pieces of each story coming together."  Later on, the showrunner went on to say, "Things are going to move, and possibly not have the kind of deep dives into characters in single episodes, but rather laying out the pieces as we go on."
It's estimated that the show is going to return in October of 2017 but like I said we have to keep an eye on this.   It's also estimated we're going to see the first trailer for season 8 in July at San Diego Comic Con.  It's nice to get all this news but until we know more about the strike this could all be useless.  Ugh.