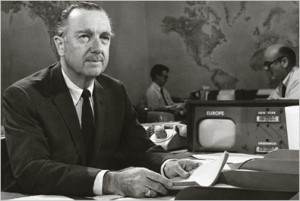 He was called the most trusted man on television, a title which was the envy of every American President that he would cover (8 US presidents have changed office during Cronkite's career, and 12 have died) .
He has been a part of some of the greatest TV moments of our time; some the brightest (the moon landing) and some the darkest (President Kennedy's assassination, the Vietnam War). His soft spoken voice, carried by thoughtful and straightforward words, mesmerized TV audiences.
A college dropout, Cronkite entered radio broadcasting sometime in the mid-30s in Oklahoma. He would later go on to join the United Press and eventually become one of the top American reporters to cover World War II, from North Africa to Europe, and eventually to the bombing raids over Germany. After the war, he covered the Nuremberg trials and would eventually stay in Moscow for two years as a United Press correspondent.
In 1950, Cronkite was brought it to television by Edward R Murrow, who hired him for CBS's young TV news department. Twelve years later, Cronkite would discover his destiny as he joined CBS Nightly News. Here, it was his words that accompanied history as it unfolded before our eyes, whether it was the Moon landing, the Vietnam War, or the Kennedy Assassination. He would retired on March 6, 1981, but he would never be forgotten.
After struggling with an illness for quite some time, he died with his family in New York, on July 17, 2009. The best description of this loss comes from Jim Poniewozik's article for Time Magazine; "Newsman Walter Cronkite, who died at the age of 92, was so thoroughly and uniquely linked with the word "trust" that it is tempting to say that the word should be buried with him."