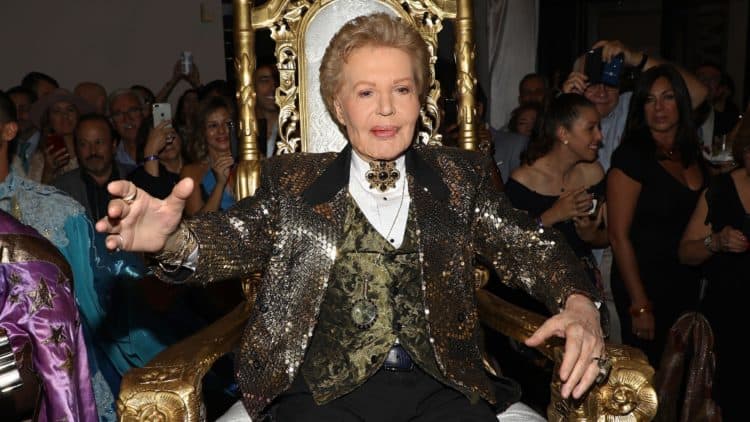 For more than 40 years, Walter Mercado was a fixture in the Puerto Rican entertainment industry. He was an actor, dancer, and author. However, he may have been best-known to many for the work he did as an astrologer. Mercado hosted a weekly astrology show which gained popularity in Puerto Rico before eventually getting aired in other parts of the United States. Although Wlater passed away in 2019, his legacy continues to live on. A new documentary on Netflix called Mucho Mucho Amor: The Legend of Walter Mercado details Walter's life both personally and professionally. Like several other celebrities, there's a good chance that Walter may become more famous in death than he was during his lifetime. Keep reading for 10 things you didn't know about Walter Mercado.
1. He Lived A Very Private Life
Walter spent several years in the spotlight, but he always made sure that the attention he was getting was focused on his work and not his personal life. He was a notoriously private person who never shared many details about his life. In fact, one of the reasons Mucho Mucho Amor: The Legend of Walter Mercado is gaining such popularity is because it provides a glimpse into his private life.
2. He Was Considered A Healer
Walter discovered his spiritual side at a very early age. When he was a child, many considered him to be a healer. There is a story that he once brought a dead bird back to life which resulted in people in his village flocking to him for help. He was even given the nickname "Walter of Miracles."
3. He Is Highly Regarded In The Latinx LGBT Community
Walter thought of himself as androgynous, but he never directly spoke about his sexuality. Still, his nontraditional sense of style and self expression resulted in Walter becoming a prominent figure in the LGBT community. Many LGBT people, especially those in the Latinx community, consider Walter a tremendous source of inspiration.
4. He Was Adamant About Keeping His Legacy Going
Over the years, Walter built a legacy that he was very proud of and he knew he wanted it to continue even after his death. Before he passed he shared his wishes with his niece, Betty. She said, "He always told me that when he passed to the spiritual side, we should not abandon his audience, his fans, his people. He wanted us to continue spreading his message of peace and love, to continue delivering the celestial messages through the horoscopes, because he said the population needs those words, that positive message, that guidance from the Universe to feed the spirit."
5. He Never Married Or Had Children
As someone who was very private about his personal life, Walter also never dated anyone publicly. At one point, he expressed that he had a very strong spiritual connection with Brazilian actress, Mariette Detotto. However, Walter never married or had any children. Despite not starting a family of his own, Walter has several nieces who he had very close relationships with.
6. He Wrote A Book
At the height of his career, Walter was a huge sensation. People all over the United States were interested in his astrological advice and his show got millions of viewers every day. In 1997, he released a book called Beyond the Horizon: Visions of the New Millennium which is still considered a good read for those looking to learn more about spirituality.
7. He Knew Who He Wanted To Play Him In A Biopic
There hasn't been a biopic made about Walter's life yet, but if one ever does get made, Timothée Chalamet should be cast as Walter. Cristina Costantini, co-director of Mucho Mucho Amor: The Legend of Walter Mercado, says that Walter told her he wanted Chalamet to play him.
8. He Was Involved In A Legal Dispute With His Former Manager
Walter's success wasn't without its bumps in the road. He and his former manager, Bill Bakula, got into a legal battle after Walter signed a contract that resulted in him losing the rights to his previous work and his name. Walter claimed that he had not properly been informed of the details in the contract before sining. The issue was taken to court and Walter eventually won, but by then, his career had lost its steam.
9. He Changed His Name
During his dispute with Bill Bakula, Walter wasn't allowed to use his name. In 2010, he began performing under the name Shanti Ananda. As you can imagine, trying to rebrand under a new name is never easy. Unfortunately, Walter's alias never truly caught on.
10. He Studied Ballet
Walter is most popular for the work he did on TV, but he was also a dancer. Before getting into acting and then hosting, Walter studied ballet. As a true creative person, he enjoys expressing himself as freely as possible which is something dance always allowed him to do.