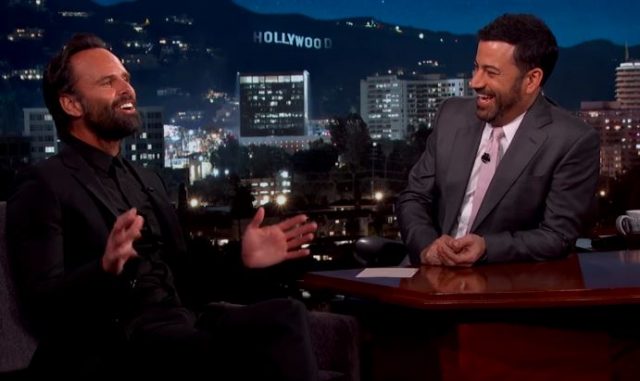 Walton Goggins (aka Justified's Boyd Crowder—I still miss that show deeply) appeared on Jimmy Kimmel Live last night to talk about his new series Vice Principals, which also stars Danny McBride and debuts on HBO next month. The show, unlike Justified and The Shield, the FX dramas that Goggins is best known for, is a comedy, and while filming Vice Principals, Goggins got the opportunity to act opposite a comedy legend: Bill Murray, who has a small role as the principal in the HBO series.
Just like most people are when they first meet Bill Murray, Goggins was pretty starstruck. In fact, during his scenes with Murray, he had trouble keeping it together, because he would keep looking at Murray's face and just instantly laugh, thinking back to all the famous comedic characters that he has played throughout his career.
However, it wasn't until a little later during the day when they were filming together that Goggins got the chance to really talk to Murray and ask him about his acting process. Goggins wanted to know what it takes to be as good as Bill Murray is.
"Literally two hours into the day, I said, 'Hey man, how do you really do what you do?'" Goggins said. "'Is there some secret?'"
Murray's response to Goggins was pretty priceless. He told the Justified actor that he's able to be as talented and as funny as he is by not laughing during other people's takes, and after that moment, Goggins did his very best to keep himself composed when he was filming with Murray.
Find out what else Walton Goggins had to say about Bill Murray, Danny McBride, and his own experiences in high school during his interview with Jimmy Kimmel in the video below:
[Photo via YouTube]