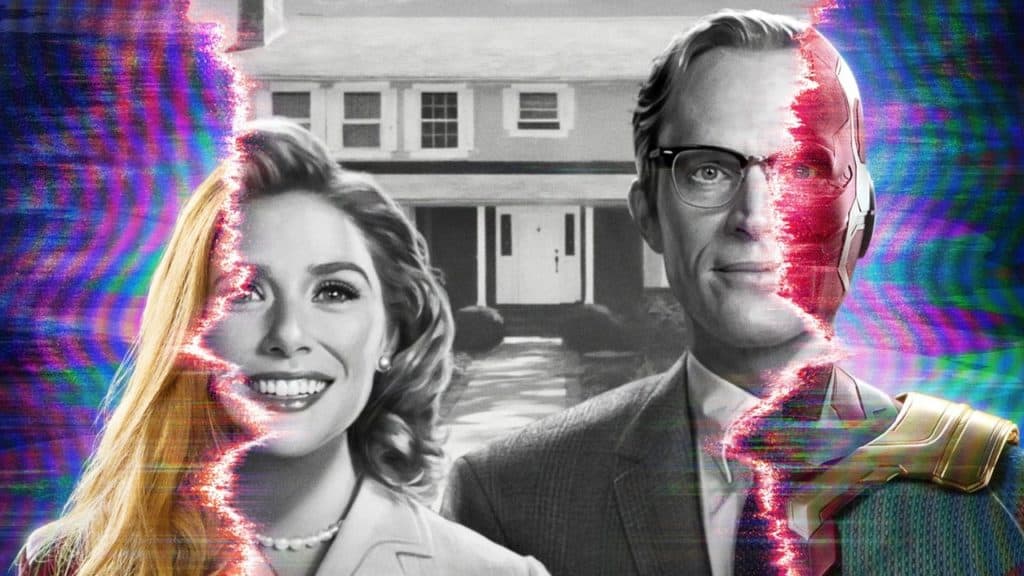 Well, the good news is that people are already wondering when episode 3 will be coming out when it comes to Disney+'s new show, WandaVision. The first two episodes, which felt extremely generous after such a long wait, dropped just today and each episode will be released every Friday for the duration of the show, so one can expect episode 3 on January 22nd, which feels like a long and interminable wait considering how the first two episodes have gone. To better explain that it's necessary to state that the first two episodes are a bit hard to watch since it takes both Wanda and Vision so far out of character as it drops them into a 50s suburban-style setting and lifestyle that incorporates their abilities and Vision's appearance when he's not out in public, meaning that they know they're odd and are still attempting to live a nice, quiet life in the neighborhood. But things aren't entirely as they appear to be since in the first episode this is made clear when Vision's boss comes over for dinner, confirming a date marked on the calendar that neither of them could figure out. Once his boss came over for dinner, with his wife, the cheesy, syrupy hilarity continued as Wanda, mistaking the date for their anniversary, attempted to create a playful mood that was instantly off-putting as she and Vision then had to scramble to come up with dinner for their guests and keep their abilities hidden from the couple as well. 
So far the show feels as though it was allowed to get off to a rather goofy, sitcom start that was meant to set the tone and create the idea that while the fantasy they're in is pleasant and charming, things aren't as right as they could be, and Wanda is undoubtedly in charge. Some will likely talk about the House of M storyline and others will cite one comic after another as they continue to watch, and that's all well and good, but so far things are a bit odd, as the first episode ends with the couple sitting on the couch as the camera pulls out and shows a monitoring station that is being watched by someone else who is apparently taking notes as we see a folder being closed as the screen fades to black and the credits take over. Plus, during the show, it is seen that his boss lies on the floor choking, Wanda and Vision apparently have a moment of indecision, or uncertainty, until she tells him to help his boss. At this point, Vision uses his ability to become intangible and pulls the piece of meat that his boss was choking on from his body, which will no doubt raise more questions since the idea that he had to solidify just enough to grab the chunk should have caused major problems. But getting away from that we get to move on to the next episode. 
The couple is still attempting to make their place in the neighborhood since they're still seen as outsiders. At this point, there have been a couple of nice name drops, such as Stark, Strucker, and of course, the name Hydra on the watch that is being marketed during one of the show's faux commercials. One can't help but point out the adherence to the manner in which 50s shows and commercials saw women as 'accessories' at times, and beholden to men, which will no doubt come up quite a bit in the days to come. But anyway, the magic show that Vision and Wanda plan to put on feels just as cheesy as the rest of it, but in a purposeful way that lets people know that it's going to be important somehow. As the show goes on though, things start to happen that make it clear that not all is right within the fantasy world, as the inclusion of color, in the form of a toy helicopter stuck in the bushes, begins to alert Wanda to the idea that not everything is okay. This gets brushed aside though until later after Vision has become loopy off of a piece of gum that has mucked up his inner workings and made him appear unbalanced and a bit woozy until Wanda fixes the problem. 
The sudden inclusion of color at the end of the second episode, the arrival of the mysterious beekeeper from the sewers, and the sudden rewind that Wanda enacts to the moment that she and Vision discover she's pregnant, all conspire to make a person wonder what they must have missed and what in the world is going on. There are bound to be plenty of questions leading into next week's episode, but one thing is very clear, and that's the fact that this show was likely planning on expectations to plummet like a stone only to rise as the interest of the fans was tweaked suddenly and without warning. At least, that's how it feels.